WWE without Vince McMahon is something The Undertaker says he cannot believe happening. Apart from being the boss, Mr.McMahon is one of the closest friends of The Deadman for a long time. Similarly, recently Taker gave his view on McMahon announcing his retirement from WWE over a tweet.
The Undertaker and Vince McMahon embrace in an emotional Hall of Fame induction for the WWE legend pic.twitter.com/bVHVHKhu73

— Bleacher Report (@BleacherReport) April 2, 2022
The WWE Hall of Famer recalled having a word with the former CEO of WWE. He claimed that he believed McMahon would return to the company.
The Undertaker thought Vince McMahon was "ribbing" with him
Taker recently sat for an interview with Ariel Helwani where he recalled the phone call with 'Vinnie-Mac'. The Deadman thought McMahon was trying to play a prank on him about retiring from WWE.
The seven-time world champion said, "He called me the day before he announced it and we got into an argument because I thought he was ribbing me. I said, 'There's no way. There is absolutely no way you're stepping away.' He was like, 'No, This is what I'm going to do.'"
Taker added, "I'm like, 'Why are you (censored word) with me? This is me.' We ended up kinda going at it a little bit. Finally, I was like, 'Alright. Okay.' Sure enough, the next day, Vince resigned, but I knew there is no way he'd stay away."
There is no doubt Taker thought Mr. McMahon was playing a prank on him. Only a person of Vince McMahon's stature would play a prank on The Deadman. A few months ago, he shared an experience of a prank the former Chairman once played on him.
Read More:- "Her Interests Are Very Male Oriented" – The Undertaker Once Opened His Heart Out Talking About Ex-wife Sara, the Woman Whose Name He Tattooed on His Neck
The Deadman reiterated that deep in his heart, he knew McMahon would be back at the Stamford-based wrestling promotion.
Taker knew Mr. McMahon would always be back
The Undertaker is one of the people who knows Vince McMahon very well for a long time. Hence, he knew McMahon would never sit home retired as WWE is his baby.
The Phenom said, "Even in this role, I think it's going to be challenging for him. I mean, that's his baby, man. He's the one that created this whole thing."
He added, "I know he wants to make sure these TV deals and everything are done the right way. Right now, that's his sole motivation, but that's Vince McMahon… We'll see where it goes, but a WWE without Vince is, for me, hard to imagine."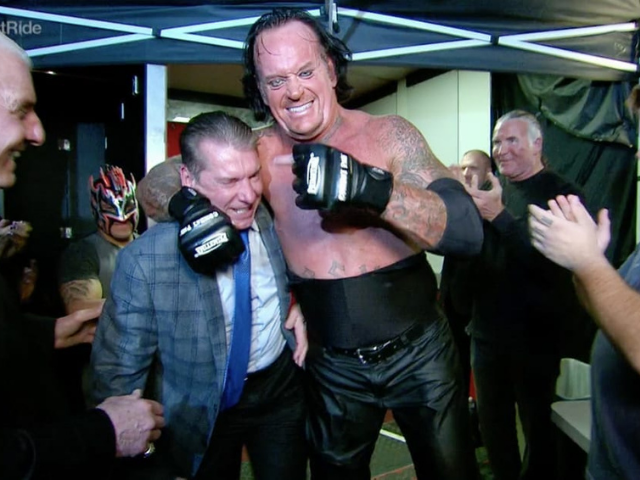 The WWE legend's words came true and Mr. McMahon returned earlier this year. Sadly, the former CEO wasn't able to see this. Elsewhere in the interview, Taker said VKM never envisioned The Deadman ever retiring from WWE.
Nevertheless, Taker called it a day in 2020 after his match with AJ Styles at WrestleMania 36. What are your thoughts on The Undertaker's comments? Share your opinion below.
Watch This Story: Every WWE Superstar Who Attacked Vince McMahon
The post The Undertaker Leaks Highly Personal Details About His Heated Argument With Vince McMahon Following Infamous Resignation: "He Called Me The Day Before.." appeared first on EssentiallySports.