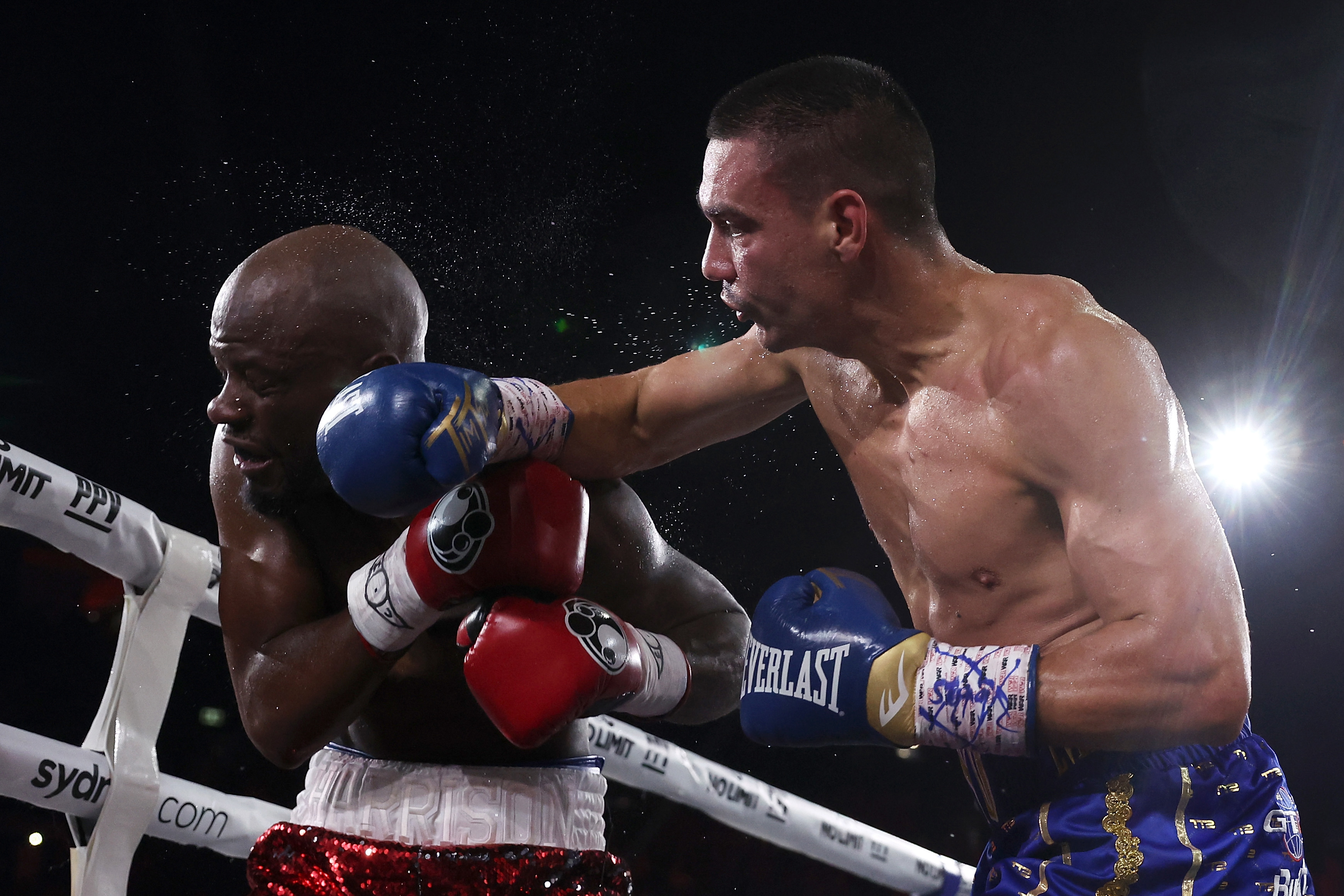 Former world champion Shawn Porter has taken aim at the referee for not stopping Tim Tszyu's fight with Tony Harrison earlier than he did.
Danrex Tapdasan stepped in and stopped the interim WBO super welterweight title bout in Sydney in the ninth round.
It came as Tszyu unleashed a flurry of uppercuts that left Harrison in no state to continue.
READ MORE: Ponga 'madness' a 'black mark' on Knights
READ MORE: SVG shredded by Supercars legend for odd act
READ MORE: Wife reveals 'sickness' behind Kohli's heroics
Even as Harrison hit the canvas Tapdasan didn't immediately end the fight, the 32-year-old allowed to regain his feet, albeit somewhat unsteadily, before the referee stepped in.
Speaking on Main Event, Porter questioned why Tapdasan didn't waive the fight off earlier.
"Look at this right here, uppercut, uppercut, I have to say, I'm very mad at this ref for allowing Tony to take this many clean shots and not step in," Porter said.
"I felt like the ref should've been there. Tony's head goes out of the ring, the ref is still allowing this fight to take place."
Tszyu has now set his sights on a showdown with unified world champ Jermell Charlo.
"What's my motherf—ing name?," Tszyu exclaimed in the ring after beating Harrison, who is the only man to have beaten Charlo.
"I just beat the man who beat the man. What does that make me?"
Charlo was watching the Tszyu-Harrison fight from America and was less than impressed with what he saw from the Australian.
"I know he can't take my punch, because I just know my punch is different," Charlo said, per the New York Post's Jared Schwartz.
"It just made me want to fight, just get this over with, shut him up, I've shut a lot of them up, it's just another one."
For a daily dose of the best of the breaking news and exclusive content from Wide World of Sports, subscribe to our newsletter by clicking here!