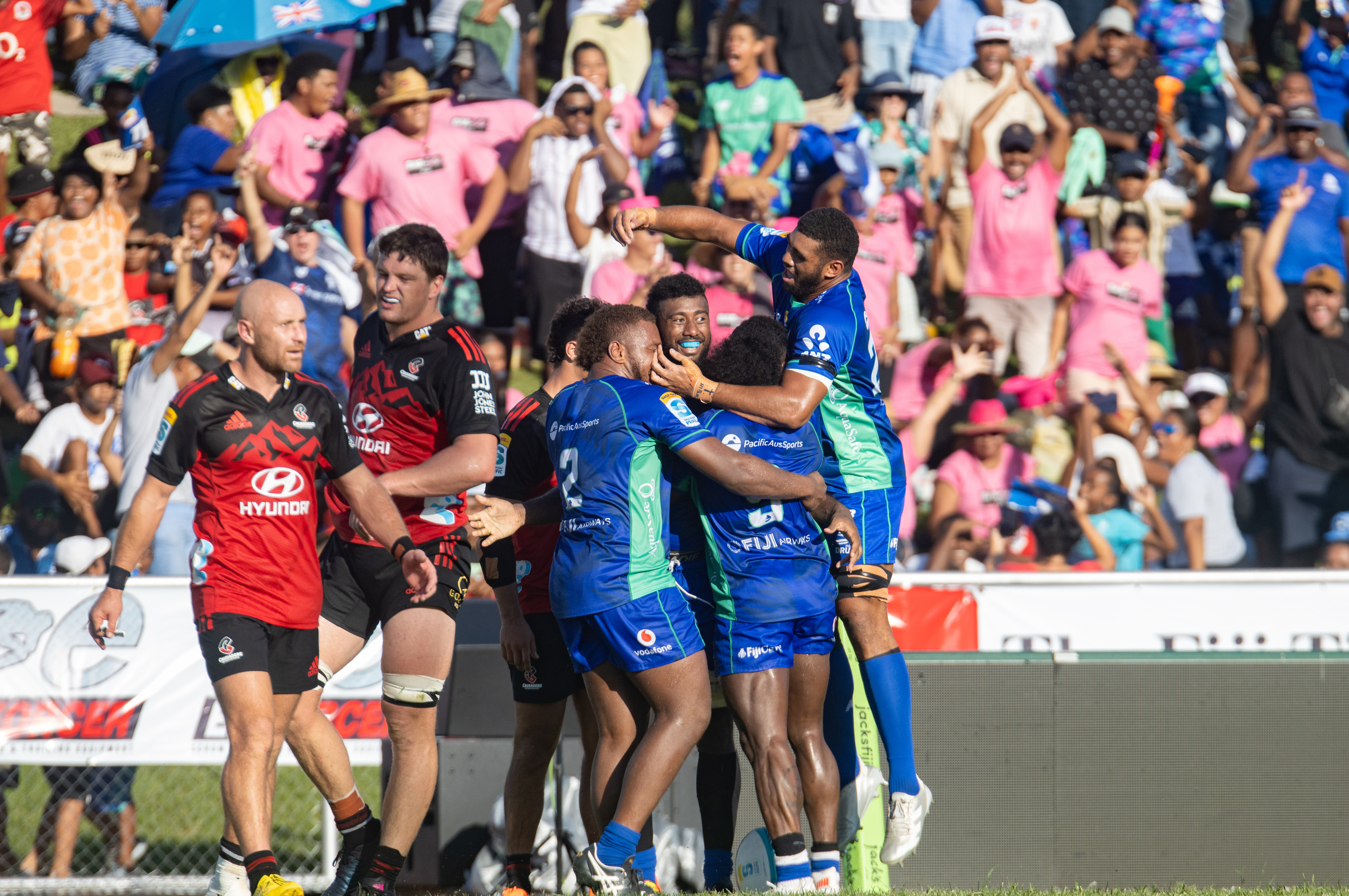 It only took three rounds for us to get our first run of upsets in Super Rugby Pacific and woah, did they give us a couple of moments to remember.
And while those were playing out in our pocket of the globe, a former Brumbies and Aussie under-20s star was tearing up the Six Nations… again!
Let's get into it.
Watch the 2023 Super Rugby Pacific season on the home of rugby, Stan Sport. All matches streaming ad free, live and on demand
Masi's brilliant scoop and score
TOSO DRUA
If you missed the Fijian Drua's upset victory against the Crusaders from Lautoka on the weekend, make a point of catching the highlights on Stan Sport.
You'll be treated to a deafening, capacity crowd, more Drua magic and a finish that's hard to believe.
I said last week that they'll be tough to beat over there, but didn't expect their first home win would come against the defending champions.
READ MORE: Olympic legend dies in his sleep after battle with deadly disease
READ MORE: Roos grilled over 'pathetic' Clarkson backflip
READ MORE: Why the NRL's $400m ambition is misplaced
Kemu Valetini, older brother of Rob, was the hero at the death after a crazy journey to Super Rugby.
He was doing his thing with the Harlequins in Melbourne club-land before joining the Manly Marlins under Phil Blake last year in the Shute Shield.
In a bizarre twist, 'Blakey' will coach against Kemu this weekend with the Queensland Reds set to host the Drua in Brisbane.
NEW PODCAST! Sean Maloney, Morgan Turinui and Stephen Hoiles revel in the Drua's famous win and Aussie export Mack Hansen setting the Six Nations alight again
REBEL BARBARIANS
Get this for a mix of internationals being brought together by coach Kevin Foote and general manager Nick Stiles down at the Rebels.
Monty Ioane will play for Italy at the Rugby World Cup.
Richard Hardwick looks set to star with Namibia against Ioane in pool play.
Stacey Ili is already capped with Samoa and will no doubt get some game time at Test level this year.
Finally, Vaiolini Ekuasi made an incredible impression off the bench in his team's win on Friday.
Every time he ran with the ball he dragged Waratahs defenders with him.
Ekuasi played New Zealand under-20s before winning one Super Rugby cap with the Blues last year. He is dynamite.
Still in Melbourne, it must've given the home team a huge boost hearing the 'Rebels, Rebels' chant late in the game.
It's been a while since they've caught that kinda noise and the performance deserved it.
White snipes for first Brumbies try
ALL WHITE… ALL WHITE… ALL WHITE
Nic White became the most recent Super Rugby centurion back in round one with a cameo from the bench against the Waratahs in Sydney.
On Saturday he was able to receive the full treatment from family and friends in Canberra following their win against the Reds.
White made his debut way back in 2011 against the same opposition and has since become one of the most prominent players in Aussie rugby.
With his three little ones and wife Mel on hand, 'Whitey' marked his 100th with teammates and fans singing the club song on the field after fulltime.
I've been covering Super Rugby closely since 2007 and it was the first time I've ever seen a team embrace their fans to celebrate a win like that.
I hope it isn't the last because it will have created a connection and a bunch of memories for the next wave of kids wanting to play with the Brums.
I don't think it should stop with Super Rugby either.
Should the Wallabies bag a home win before the World Cup, they could share their customary post-game song, the national anthem, out on the field with the fans.
Imagine the lasting impact that would make ahead of their trip to France.
LIKE FATHER…
Was unlucky enough to be sat next to promising Waratahs prop Dan Botha for the flight back from Melbourne on Saturday morning.
The kid has shoulders like bowling balls which leaves very little wiggle room back in economy.
Morgan Turinui mentioned in commentary that Dan's dad Chris had made a mad dash back from Cape Town to watch his son's debut in Super Round.
Friend of the column Andrew Logan followed up by telling me Chris played for Zimbabwe in the 1991 World Cup.
The 'Sables' delivered their best performance against Scotland, going down by just 39 at Murrayfield.
MMMM BOP
Hansen is the name everyone's cheering in the Six Nations right now and with very good reason.
Mack Hansen, the laid back 24-year-old who went to school in Canberra, played Aussie under-20s and won games for the Brumbies has now earned two straight man of the match awards with world No.1 Ireland.
He's also earned praise from World Rugby hall of famers Brian O'Driscoll and Ronan O'Gara – which basically means Mack drinks free in Dublin for the rest of his life.
'Oh, pardon!': Aussie ace's hilarious interview
His team can land the coveted Grand Slam with a victory vs England this week.
Should that happen, Aussie Mack will cop free Guinness at every Irish pub in the world.
250 AND COUNTING
Aussie sevens freak Charlotte Caslick finished with silver in Vancouver last Monday in a tournament that saw her reach 250 world series games.
She's a two-time World Rugby sevens player of the year, an Olympic gold medallist and one of the most recognisable players in Australia.
Coach Tim Walsh marked her achievement with a heart felt poem delivered in the sheds.
Good areas all round.
CHILD'S PLAY
This weekend sees the inaugural 'Kids Round' set to play out in Super Rugby.
It's a great concept with each club embracing the chance to give the little ones something to remember.
There'll be giveaways and opportunities for them to meet the players.
And if you've ever wondered what the Wallabies would've looked like as cartoon kids, get around some of these. Spooky.
For a daily dose of the best of the breaking news and exclusive content from Wide World of Sports, subscribe to our newsletter by clicking here
Eddie Jones' remarkable career in pictures: Hooker, teacher and master coach improbably leads Wallabies again