Throughout his career that spanned over 15 years in the UFC, Nate Diaz never really backed down from squaring up against anyone – whether it be in the octagon or outside of it. While the Stockton-based fighter failed to get his hands on UFC gold during his career, he and his older brother Nick Diaz probably carved out one of the biggest fan bases in the sport. And this was all down to their personalities, which they wore not just in the cage but even when they stepped out of it, too. Well, growing up in a hard neighborhood often does that to people, and the Diaz brothers were no exception.
And if you're wondering what would happen if someone tried picking on them, there's a perfect story that tells what exactly would go down in such a scenario. In a recently resurfaced video, Nate Diaz recalled an incident that showed how even the most dominant of MMA fighters would quake in their boots when squaring up to him. The fighter that Diaz claimed was too scared, that he ran away before he could get his hands on him, was Khabib Nurmagomedov. Fans will be familiar with this particular scuffle that broke out between the two teams at a WSOF event.
As this clip of Diaz talking about the incident resurfaced, people reacted to it while fans of both fighters clashed in the comment section.
Nate Diaz narrates what went down with Khabib Nurmagomedov at the WSOF scuffle; Fans react
Accusing the Russian of instigating the scuffle, the younger Diaz claimed Nurmagomedov and his crew tried to "make fun" of him by clicking a group picture. He recalled they tried to have him in the background as they laughed at his expense.
"And they took a group picture with me behind them, just to laugh at me, make fun of me. Khabib is like, 'Ah, come on, man' and they're all laughing, 12 Russian dudes," recalled the veteran.
This clearly riled him up as Diaz claims claimed he ended up landing one of the famous 'Stockton Slaps' on Nurmagomedov's face. Surprisingly, none of the Russians came out in defense of their friend.
"I slapped him in his face, for making fun of me. I was like "bit*h", and he didn't do nothing," claimed the 37-year-old.
As the video started going viral once again, fans thronged to the comment section. Fans of the Diaz brothers didn't waste any time in thrashing the Russian fighters.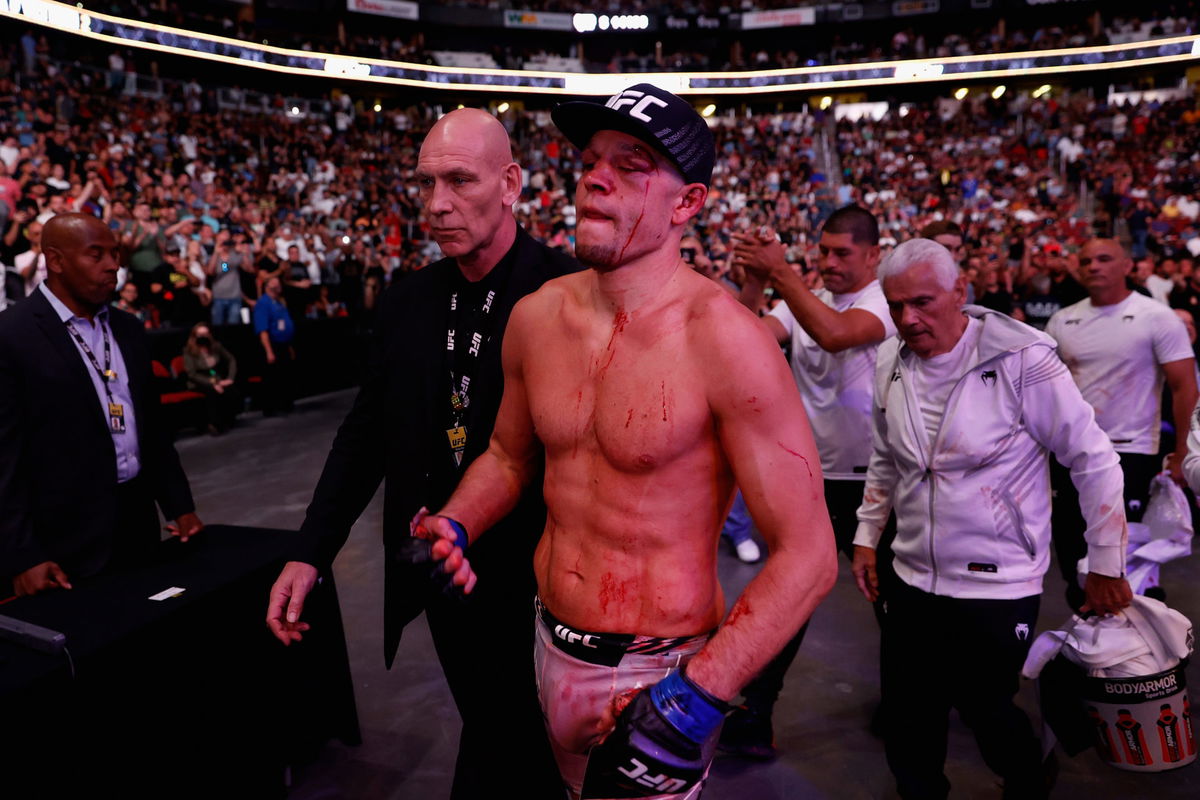 "It's true it's on video too," commented a fan.
"Khabib knows his team are a bunch of woman who can't stand the Diaz army . Diaz army is reckless so he ran away. Khabib can only grab nuts in octagon , not outside"
"We don't approve of Russia in the
"
"He did what any real mfer would've done"
Nurmagomedov's supporters also bashed Diaz and claimed that it was a bunch of lies.
"smell that? It smells like bullsh*t"
Read More: Daniel Cormier Expresses Concern for 39-Year-Old Nick Diaz Aiming for UFC Return; Offers Promising Alternative
"CTE punch drunk slur words"
"really think Khabib got slapped and he didn't or the 12 Russians around him didn't do anything"
"So people really think that Khabib let him walk away after getting slapped. Those guys would've eaten Diaz had he even touched Khabib"
Diaz regrets being reckless 
Following the scuffle, the American ended up getting removed by the security, but he remembers waiting outside to get his hands on Nurmagomedov once again. Unfortunately for Diaz, this also meant he couldn't get to root for his friend who was fighting in the event.
"And then I got kicked out. Didn't even get to see my friend fight. I was so furious. So I waited for this mo*********ing a** to come outside of there. And I f****g went to get his a** again, and he ran off," he stated.
Ultimately, for the former TUF winner, this served as a reminder to not act too recklessly. And it could be down to age and his evolution as a fighter too that made him look at it from a different perspective.
"I shouldn't have done that. It was reckless, it was stupid. I was mad…but he was picking on me," explained Diaz.
View this post on Instagram
Why do you think Nurmagomedov and his team resorted to bullying? Let us know in the comment section below.
Watch This Story: MMA Pros React To Jon Jones' Flawless Performance At UFC 285
The post Fans Call "Bullsh*t" as Nate Diaz Brands Khabib Nurmagomedov a "Bit*h" While Recalling 2015 Scuffle in a Recently Resurfaced Clip appeared first on EssentiallySports.