NBA veteran Tristan Thompson recently celebrated his 32nd birthday and birthday wishes poured in from every corner. Notably, Thompson's ex Khloe Kardashian shared a heartfelt birthday wish via social media. Despite their roller-coaster relationship, the KUWTK star penned an emotional message to her ex who allegedly cheated on her. Khloe noted that Thompson was the best father and talked about his relationship with their children and shared various images of the 2016 NBA champion.
However, Khloe turned off the comments because of the possibility that some fans might criticize the message for one reason or the other. A few hours later, Kris Jenner shared her birthday message for Thompson on social media as well.
Kris Jenner's birthday wish to Tristan Thompson
Kris Jenner took to Instagram stories to wish Tristan Thompson on his birthday. Similar to Khloe Kardashian, Jenner shared multiple images of the former Cleveland Cavaliers star as she looked back at some of her fondest memories with him. She was full of praise in her message as well. The first image was Tristan with Jenner with the caption, "HAPPY BIRTHDAY TRISTAN! I KNOW THIS YEAR HAS BEEN HARD SO FAR. BUT YOU SEEM TO FIND THE POSITIVE AND THE LIGHT AMONGST THE SADNESS @REAL TRISTAN13
".
Here are the screen grabs of Jenner's birthday message to Thompson: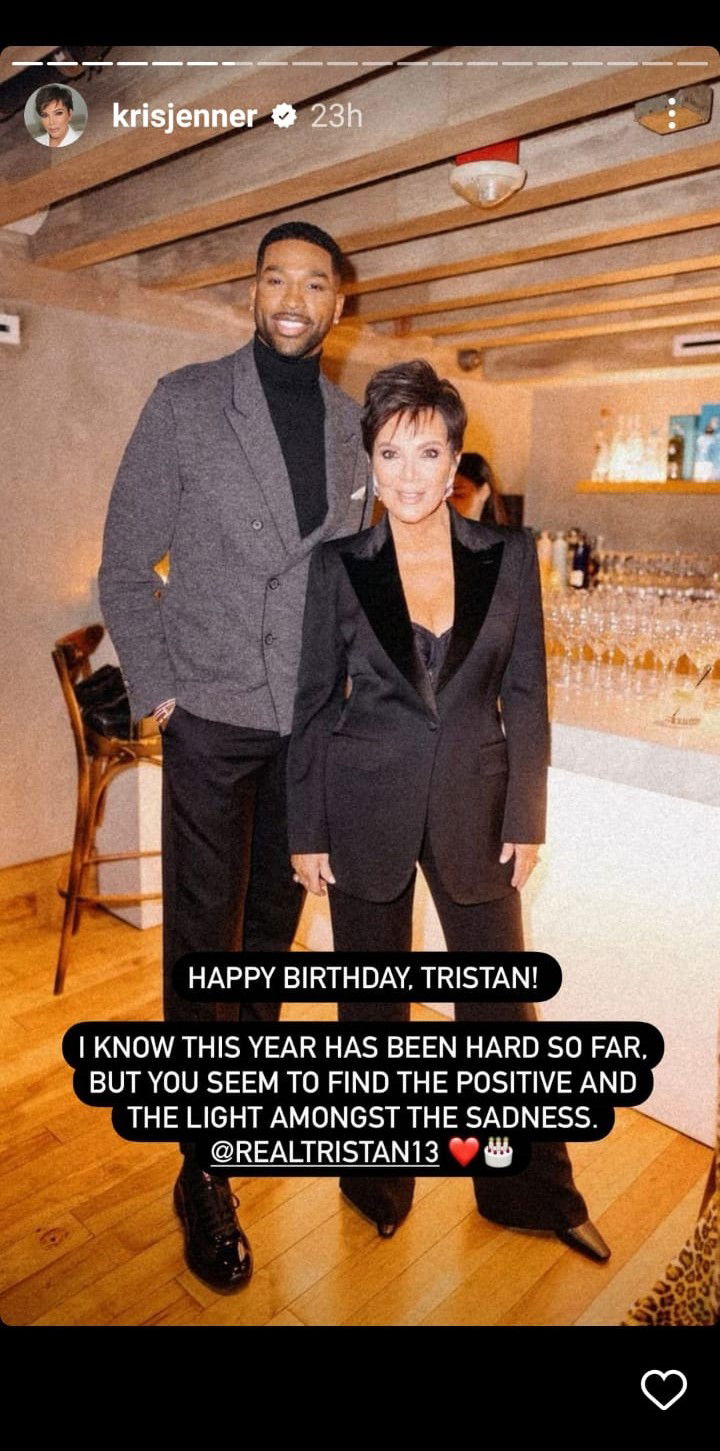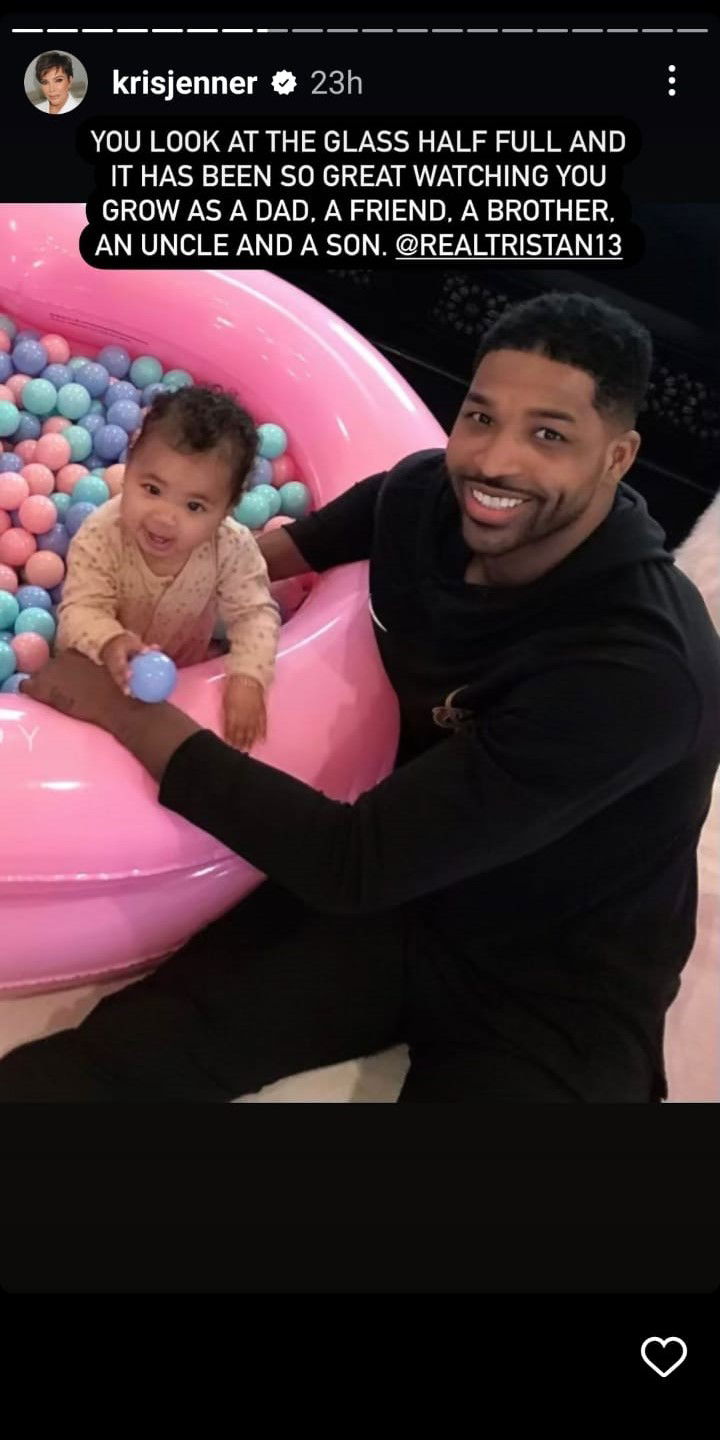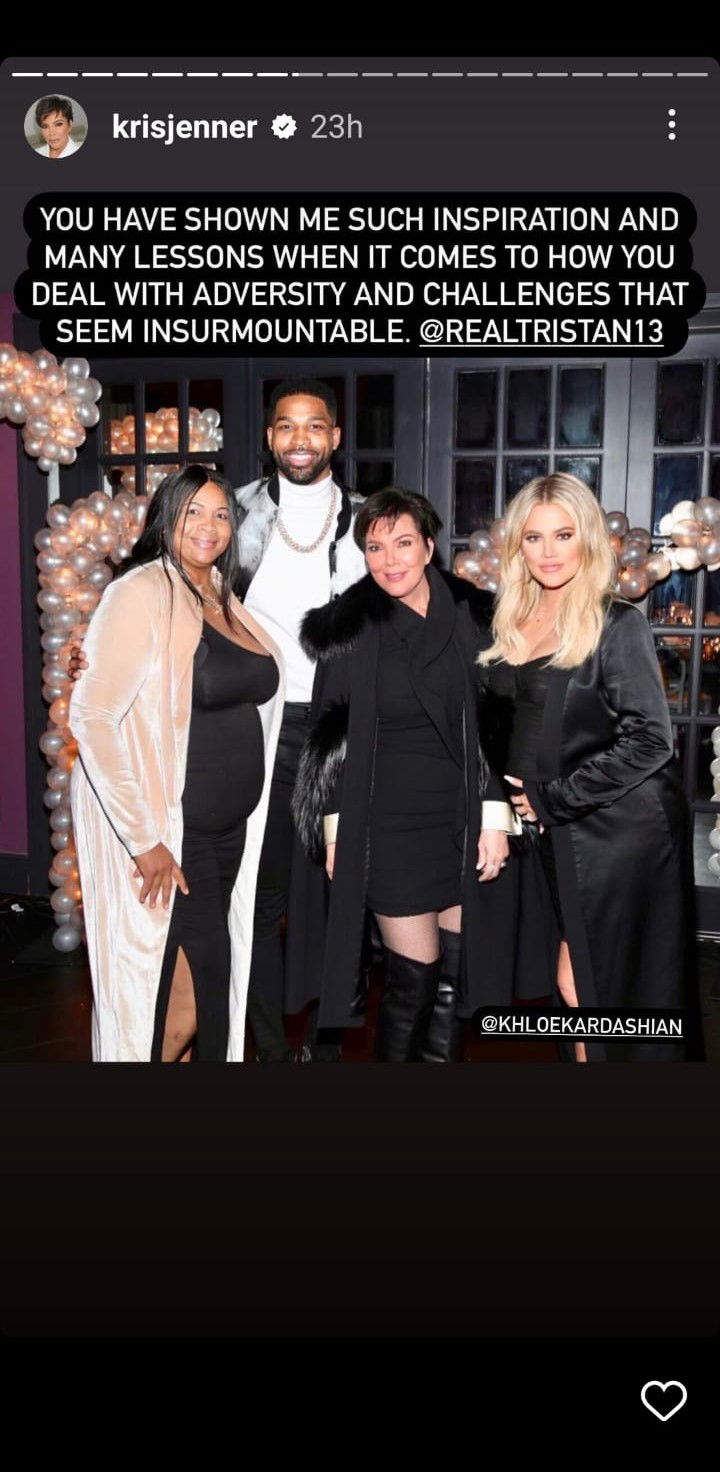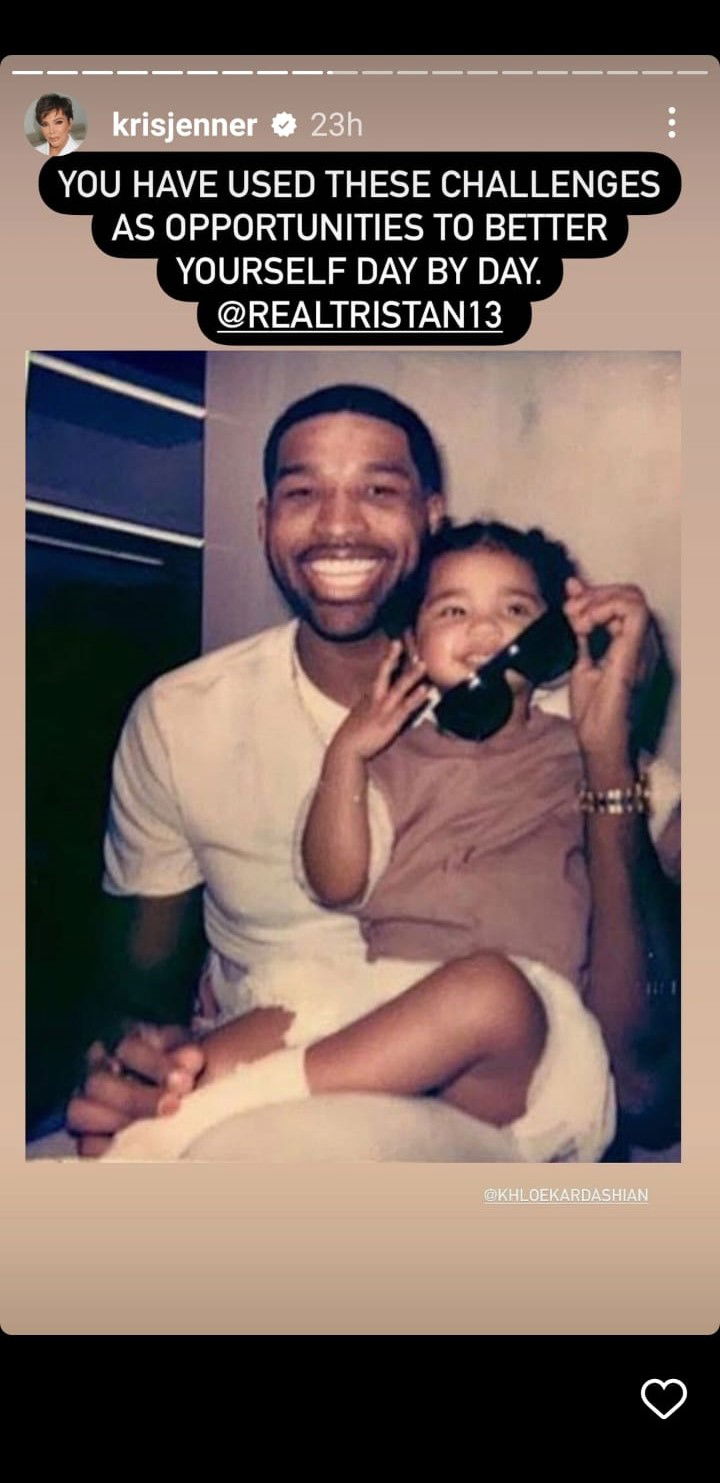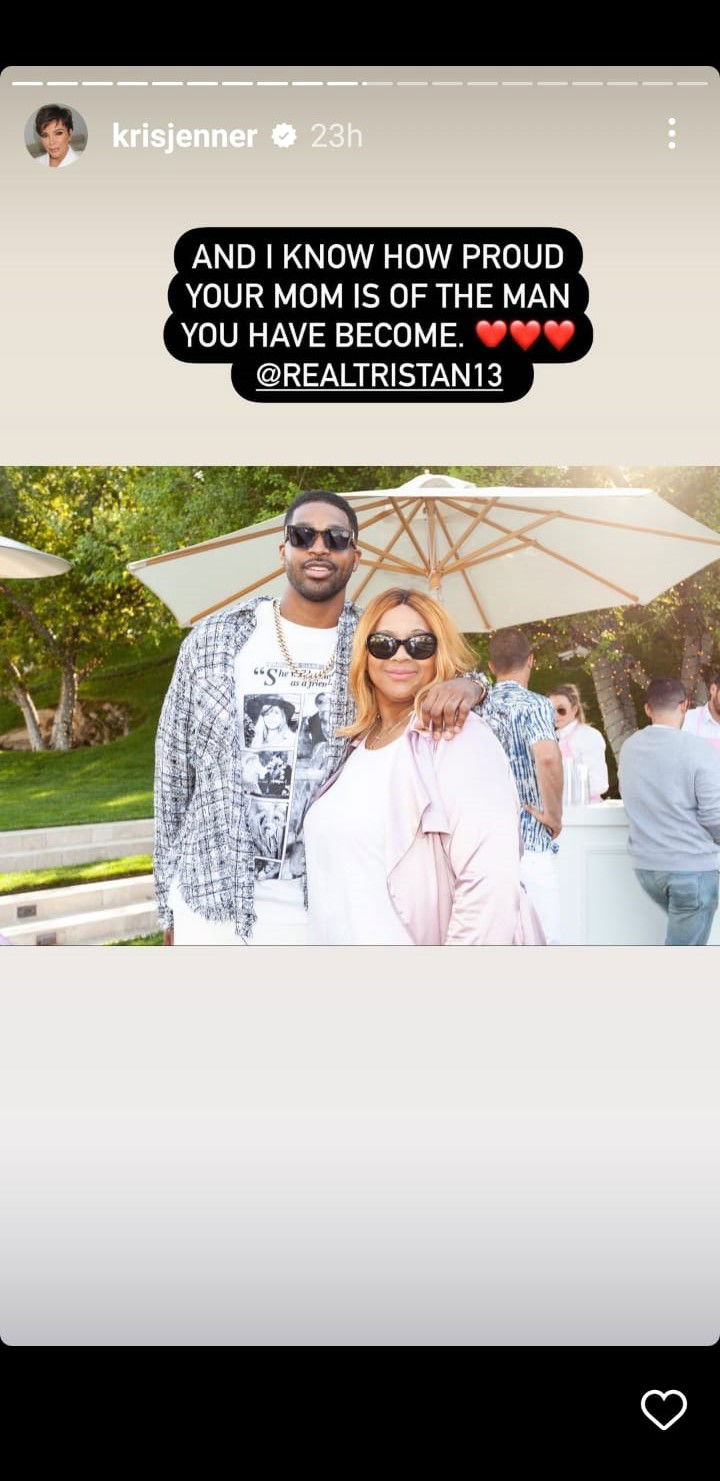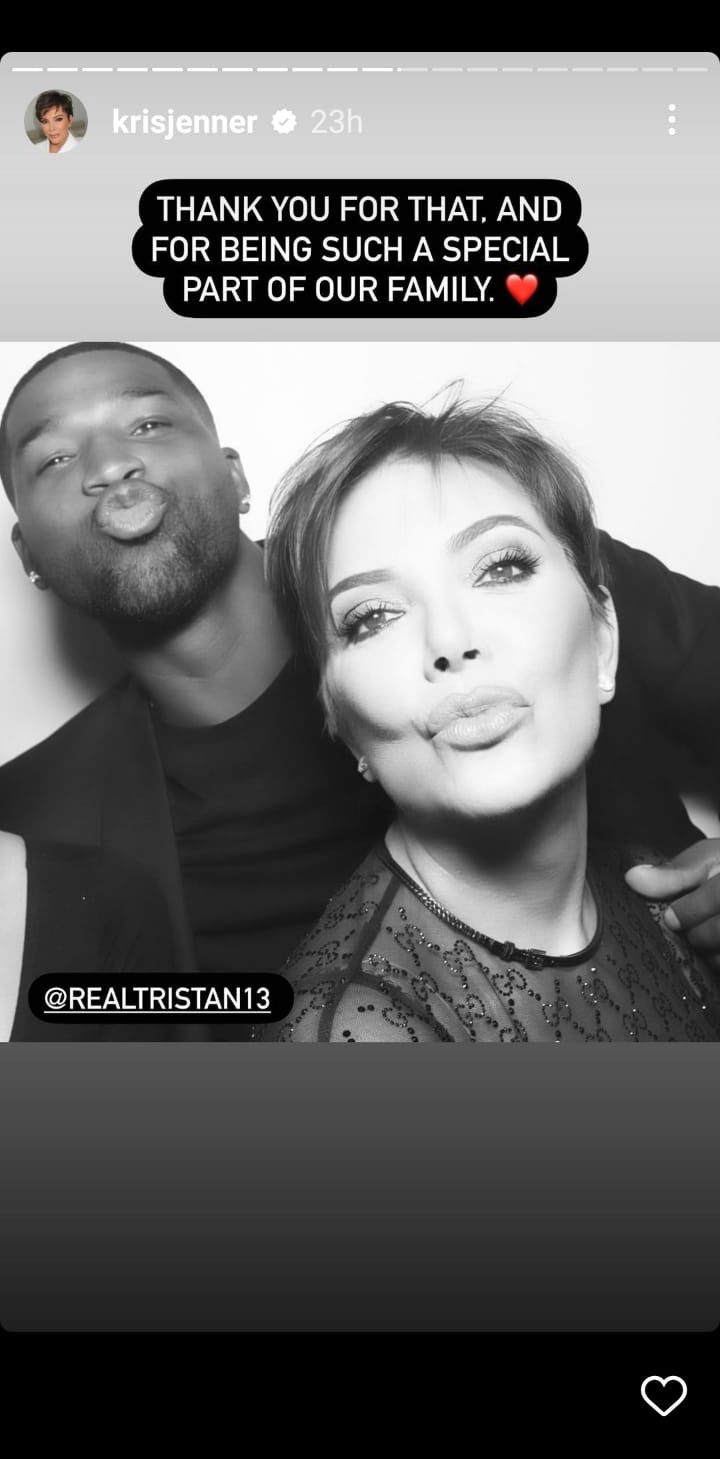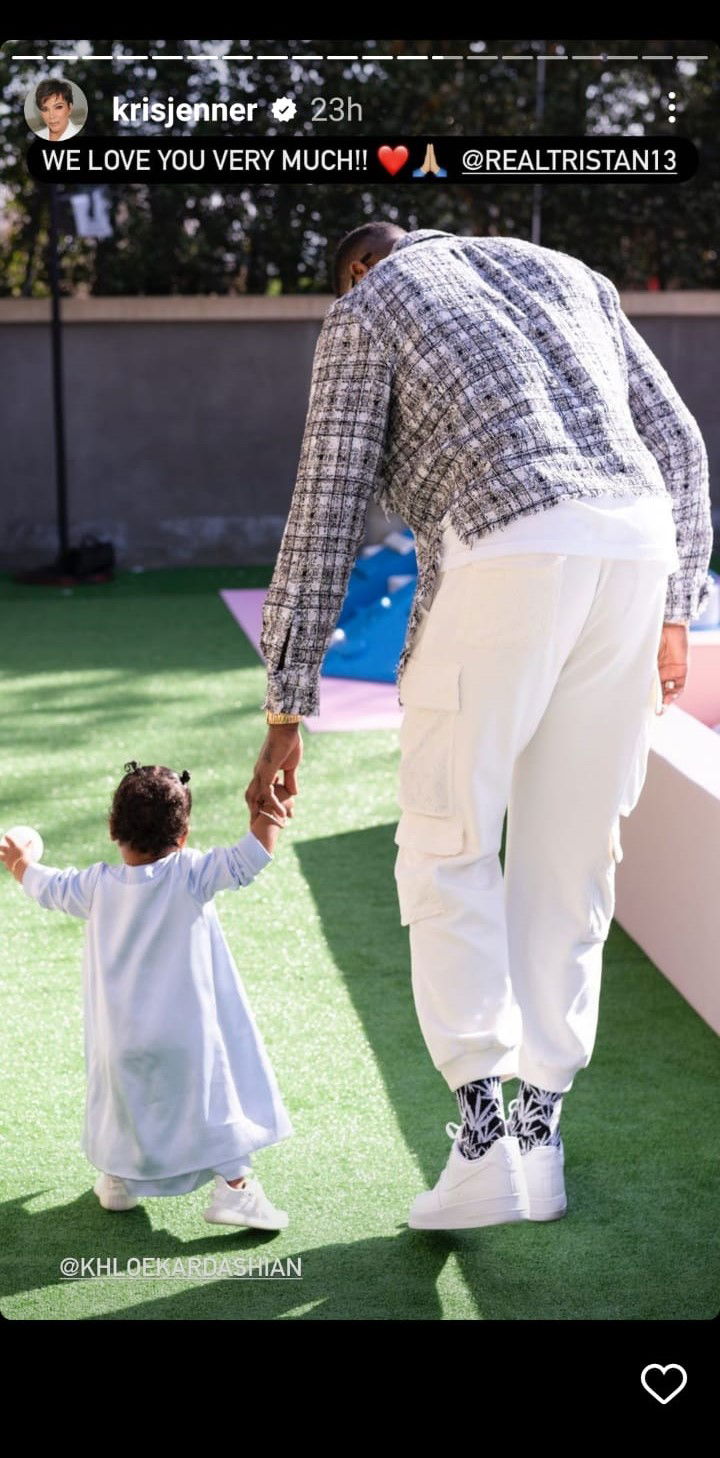 Jenner noted that the basketball analyst is an optimist and added that it was great to watch him grow as a father. She also said that he has been an inspiration for her with the way he handles adversity and challenges even when things looked daunting.
READ MORE – Tragic Loss for NBA Ex Tristan Thompson Forces Sad Decision from Khloe Kardashian
The reality TV star stated that Thompson's mother, Andrea, who recently passed away would be proud of him. Jenner also thanked him for being a special part of her family. She then concluded her message with the words, "WE LOVE YOU VERY MUCH!!


@REALTRISTAN13". She also tagged Khloe in some posts.
The former NBA star's reaction to all the wishes
Tristan Thompson has been showing love for all the birthday wishes from some of his closest friends and family. He shared the messages with his fans through his Instagram story. Thompson shared every post of Kris Jenner's heartfelt message and showed his appreciation. The power forward also shared Khloe Kardashian's heartfelt birthday wish in his stories.
WATCH THIS STORY – A timeline of Khloe Kardashians' relationship with Tristan Thompson
After playing 11 seasons in the NBA for five different teams, Thompson recently retired and joined ESPN as a basketball analyst for the segment NBA Today.
What do you think about Kris Jenner's birthday wish to Tristan Thompson? Let us know in the comments.
The post Hours After Khloe Kardashian Wishes Her "Baby Daddy" on His Special Day, Kris Jenner Pours Her Heart Out for Ex-NBA Champion appeared first on EssentiallySports.