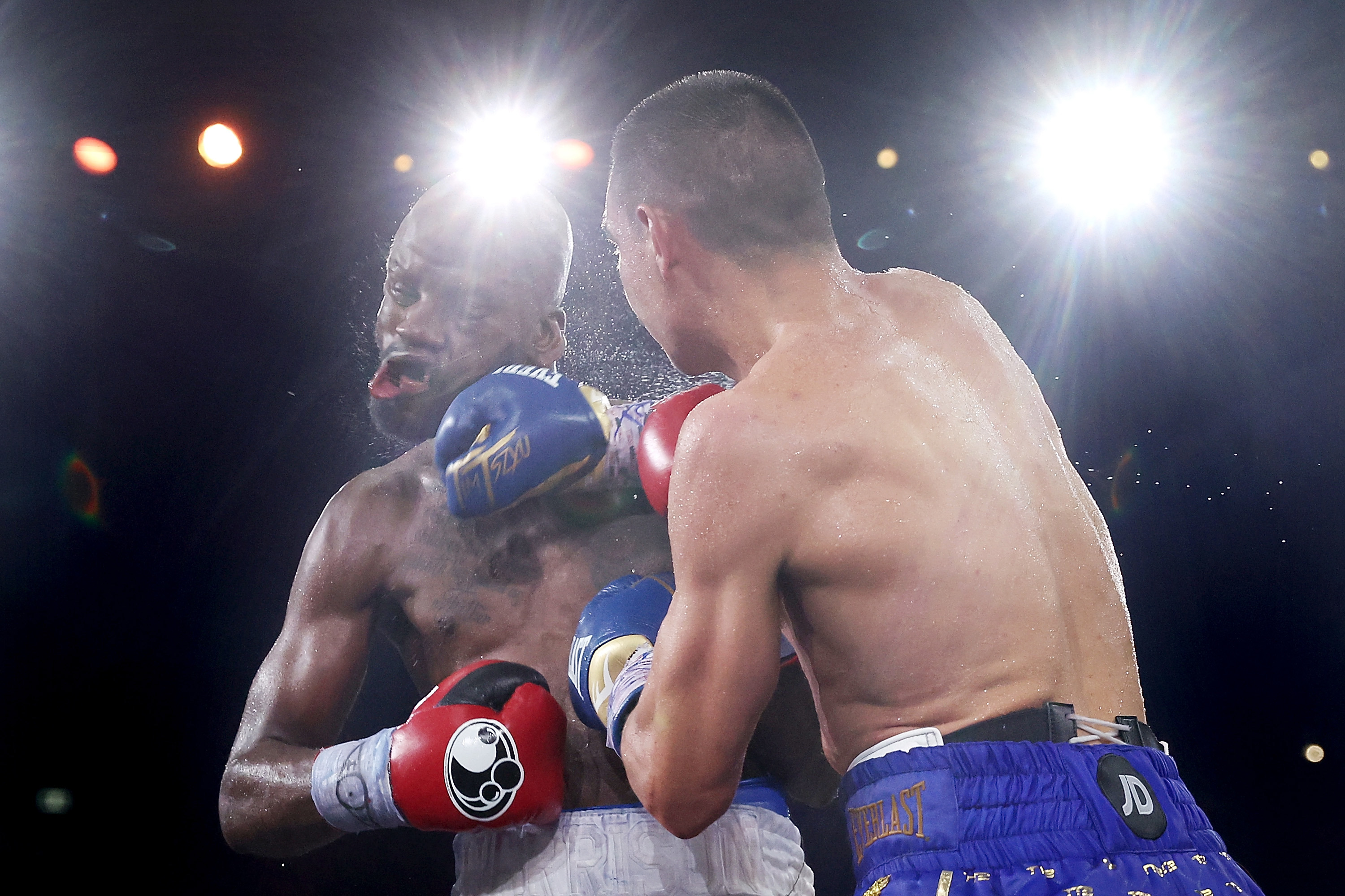 Tim Tszyu hit back at claims he was "flat" during his win over Tony Harrison as the new Aussie champ issued a message to his "haters" following his win over the American.
A day before taking off for a well earned European holiday to watch Real Madrid host Liverpool in the second leg of their Champions League quarter-final tie, the new WBO interim world champion wasn't fazed by what his critics had to say in the aftermath of the dominant victory.
Tszyu's promoters, No Limit Boxing, will now hold negotiations with undisputed super welterweight world champion Jermell Charlo's promoters, PBC, for a fight touted for July in Las Vegas.
READ MORE: Olympic legend dies in his sleep after battle with deadly disease
READ MORE: Roos grilled over 'pathetic' Clarkson backflip
READ MORE: Why the NRL's $400m ambition is misplaced
Charlo gave some credit to the Aussie moments after the win saying he was "impressive at home" but later called Tszyu's performance "flat" while former world champion Ishe Smith said the undisputed champ would "have a field day" against the Aussie.
Tszyu rocks Harrison in round 3
"Haters are always gonna hate," Tszyu said. "There's always gonna be critics and people putting me down.
"Stuff 'em, that's what I say.
"It's just talk. What more could I have done, man? That was a statement right there. If it went to a decision, then, whatever, but that was clear."
Tszyu revealed that he spoke to his father on Facetime moments after the strong win, adding that legendary boxer Kostya had seen some improvement in him.
If Tim can beat Charlo, the Tszyus will become the first father-son pair of undisputed world champions in boxing history.
"Dad said, 'Good job, well done … you made a couple of mistakes'," Tszyu laughed. "Far out, man, haters gonna hate!
"But we caught up, and it was a big moment for him as well. The goal now is to become the best boxing family who ever lived."
Despite the huge win on Sunday, celebrations were limited, said Tszyu. The undefeated star spent the day after his momentous win with family-friends and eating Chinese food.
Baby Tszyu conquers Belbin
"Usually I pig out but this time I didn't. I had a nice healthy breakfast (this morning)," Tszyu said.
"I know what's around the corner. I don't want to start pigging out and get too excited with things."
While Tszyu wasn't heavily tested against Harrison, he said the experience was a solid stepping stone. He won't take too much time off, maybe a week or two, before starting initial preparations for his bout with Charlo.
"I want (Charlo) to be at his best, so whenever he's ready," he said.
"Let's not get too excited and start talking about having another break. I'll have a week or two off, but (I want Charlo) in July.
"The fight with Charlo is definitely bigger now, for sure. The whole world knows about it. Everyone's commenting on it and everyone's got their own opinions. It just makes it even bigger, but I also gained more invaluable experience for what's ahead."
For a daily dose of the best of the breaking news and exclusive content from Wide World of Sports, subscribe to our newsletter by clicking here!