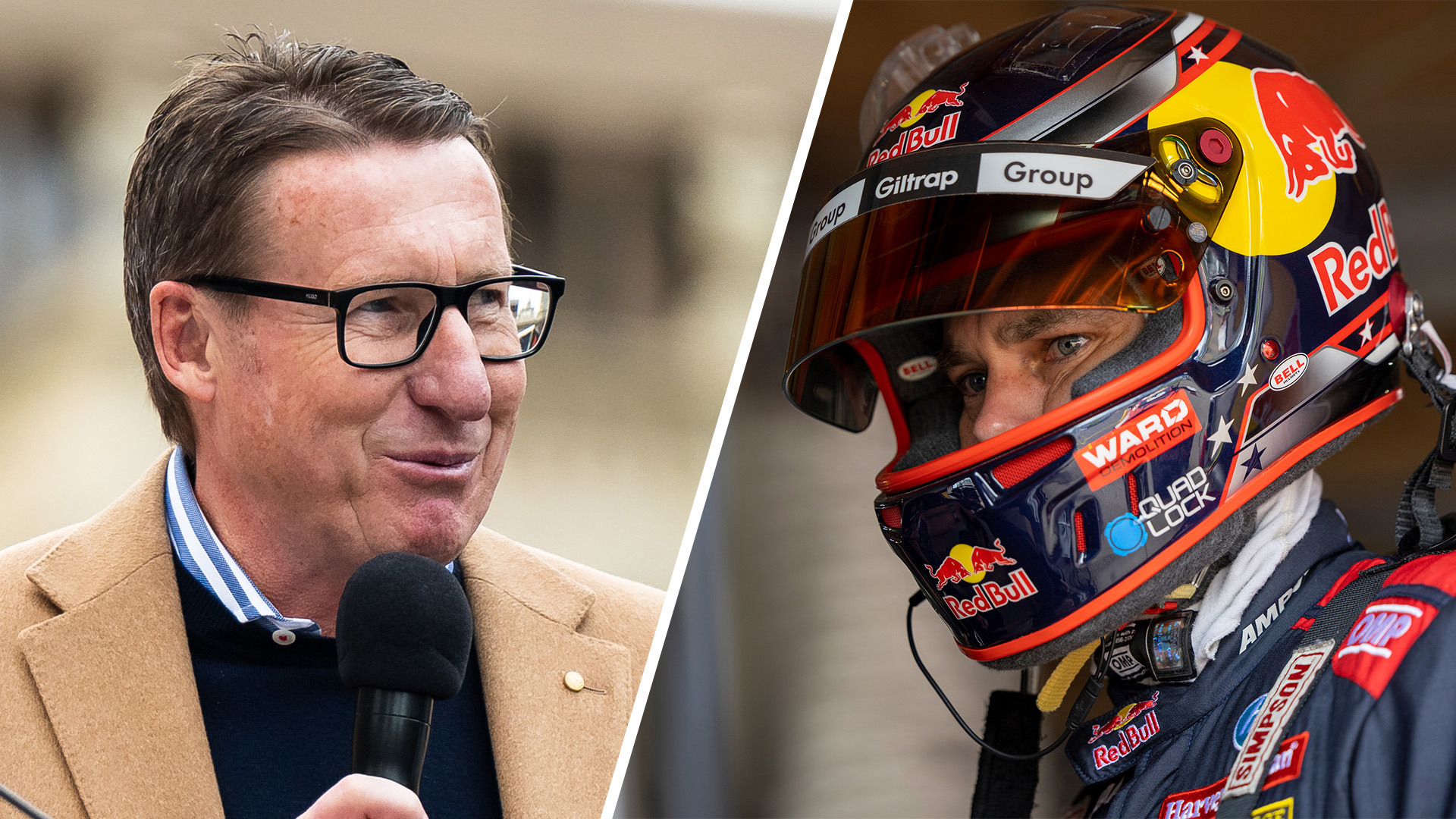 A "pretty down" Shane van Gisbergen says criticism he received from five-time Supercars champion Mark Skaife was "a kick in the teeth" in the wake of his media shutdown.
After winning Sunday's race at the Newcastle 500, van Gisbergen drew a terse response from Skaife when he decided not to answer questions in the end-of-day press conference.
Broadcast coverage showed an exchange between last year's champ and press conference host Chad Neylon before Skaife and co-commentator Garth Tander laid into van Gisbergen.
READ MORE: Olympic legend dies in his sleep after battle with deadly disease
READ MORE: Roos grilled over 'pathetic' Clarkson backflip
READ MORE: Why the NRL's $400m ambition is misplaced
However, it did omit a subsequent answer from the Kiwi who said his honesty in a press conference earlier in the weekend about the new Gen3 cars had "bit me in the arse."
Skaife said van Gisbergen had a duty as last year's champion to answer questions while off-sider Jessica Yates suggested fans had missed out as a result.
"They want to be as close to the action as they can and quite frankly without them, Shane van Gisbergen doesn't have the job that he has," said Fox Sports' Yates.
"It's really disappointing to think that Shane doesn't want to engage with the media, all of the people who are building him up to be the champion that he is, but also our fans who missed out on that insight and analysis."
Within the Supercars paddock, it's widely known van Gisbergen has not been a fan of the next-generation cars.
The three-time Bathurst 1000 winner has been hesitant to speak on the matter for fears of backlash from Supercars.
Those fears were realised after comments he made on Friday drew anger from Supercars management, van Gisbergen suggesting he had "upset some of the top brass" as a result.
Stan Sport is the only place to watch the 2023 SpeedSeries. All the action streaming ad-free, live and on demand
Wide World of Sports understands some journalists were contacted by Skaife in the wake of van Gisbergen's comments, with Skaife bemoaning the negative coverage.
Following significant social media upheaval on both sides of the fence after Sunday's fracas, the usually reserved driver made a lengthy post across platforms.
"Over the weekend I probably said a bit too much publicly on Friday about the heat of the cars, although it did prove fruitful getting extra cooling for the drivers," van Gisbergen wrote.
"Many still struggled, including myself, with the heat. Unfortunately that upset some of the top brass and hence my adopted media strategy for Sunday 'if you don't have anything good to say, don't say it at all'. I just knuckled down and drove my arse off on track.
"I understand it's my duty to represent the sport in a good light as champion, I will do that to the best of my ability by being myself off track, racing hard on track for my team members, team partners and our fans.
"It was a real kick in the teeth hearing those comments from a five-time champion – someone I look up to and respect. I am not going to pretend it's all roses when it is not."
Van Gisbergen has been a key part of the development of the new Gen3 touring cars.
Behind the scenes, he has been vocal in his disdain for a variety of issues, including driver comfort, cockpit temperatures, and visibility.
After Saturday's first 250km race, several drivers were left exhausted. In Friday's press conference, van Gisbergen foreshadowed soaring temperatures.
The footwell was particularly warm, leading van Gisbergen to label his new Chevrolet Camaro the "hottest car I've driven in a long time."
He said Supercars had misinterpreted drivers struggling with the car as making for better racing.
"It's not a secret I haven't been a fan of the way the Gen3 car feels and drives, and behind closed doors I've been pretty critical of things and tried to make it better, firstly with feedback to the category in the prototype testing and now with my team trying to make the race spec car to my liking," van Gisbergen wrote.
"The category seems to think our complaints and gripes with the car will 'make better racing' if we are struggling and we are told to be positive and show the sport in a good light, which of course I understand the last part.
"I try to be as neutral as I can with my critiques of the car, I act with the intention of representing the drivers trying to make the car better for everyone.
"As much as I don't have a good feeling with the car at the moment it drops perfectly into my strengths – hard to drive, on edge, hard on tyres. Perfect for me!
"So what am I complaining about? I guess I want not only myself, but all drivers to be getting out of the car raving about how awesome and fun it is to drive. Which is something that's not really happening now."
In the wake of his post, van Gisbergen received support on social media from teammate Broc Feeney and other current and former Supercars drivers, including Fabian Coulthard, James Moffat, and Russell Ingall.
Ingall, who made his 26th and last Bathurst 1000 start in 2021, was particularly scathing of Skaife's response.
"You are entertaining enough on the track you don't need to be a comedian off it," he wrote.
"And a saying I live by is 'If you're going spray someone then say it to their face or dont say it at all.'
"To give someone an uppercut on national TV without right of reply is not on."
The Supercars season resumes at the Formula 1 Australia Grand Prix on March 30-April 2.
For a daily dose of the best of the breaking news and exclusive content from Wide World of Sports, subscribe to our newsletter by clicking here!
Sons-of-speed: The second and third-generation racers following in the footsteps of Australia's legends