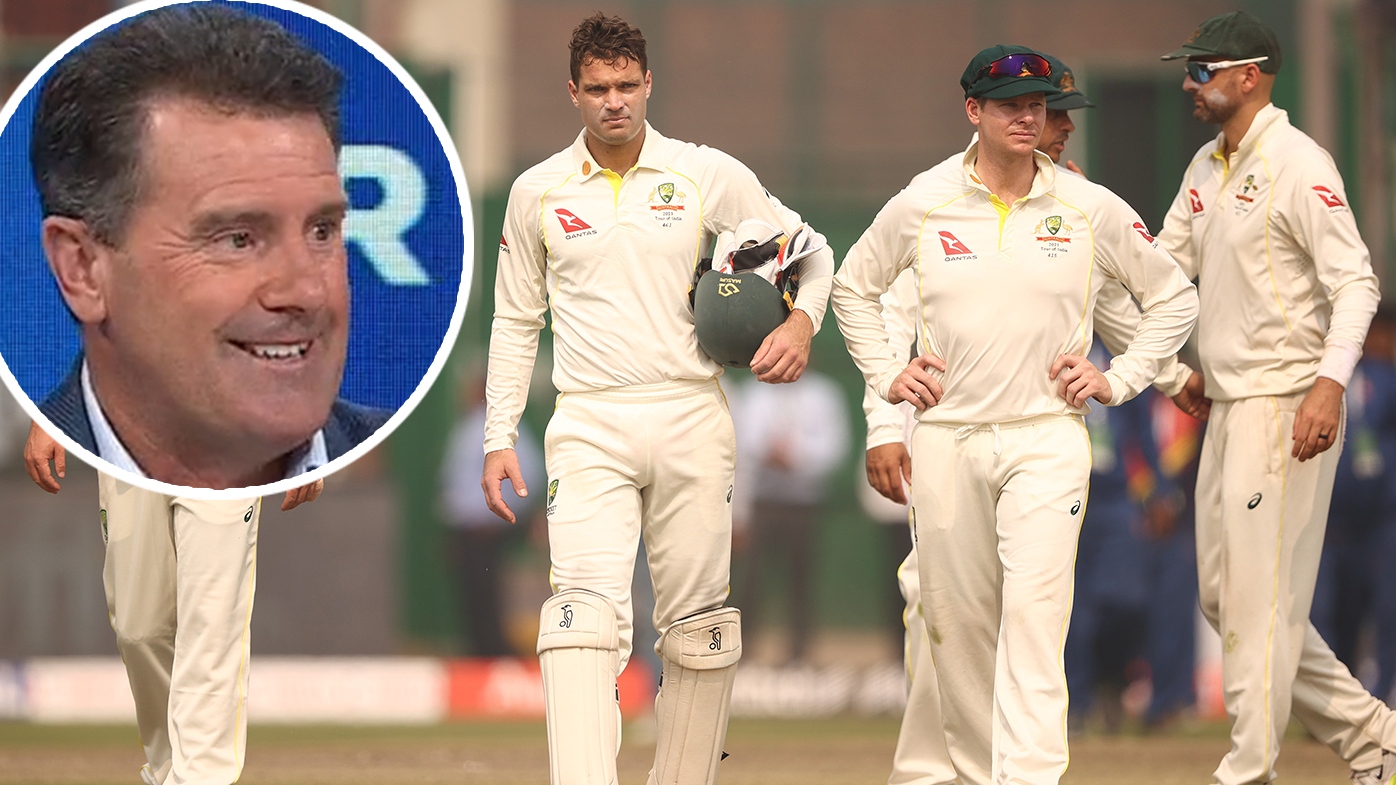 India has recorded its fourth consecutive 2-1 series win over Australia, meaning India keeps the Border-Gavaskar Trophy that its held since 2017.
For Australia, attention now turns to the World Test Championship final, also against India, that will be played at The Oval in June.
That will be followed by the Ashes, where Australia will be seeking a first series win in England since Steve Waugh's 2001 side.
LIVE UPDATES: Eels release Origin forward to NRL rival
READ MORE: Rowing champion in coma after 'serious accident'
READ MORE: Slater's answer if Storm ask him to replace Bellamy
Wide World of Sports spoke to former captain Mark Taylor for his thoughts on some of the big questions facing the team.
Where is Steve Smith at?
Smith averaged 29 for the series and didn't reach 40 in any of his innings. He also (once again) made comments that suggested his time in the Australian team could be limited.
"It's always hard to read Steve," Taylor said.
"He's not one of these guys that's driven by stats. He's driven by the enjoyment he gets by trying to make as many runs as he can, and obviously winning Test matches.
"If the side is playing well and he feels like he's enjoying his batting, he'll keep playing.
"But I also suspect the moment that stops, he might just say, 'That will do me'.
"I don't know when that's going to be. Ideally you'd like him to do the Ashes, which I think he will, and then at least the next Australian summer. But it wouldn't surprise me if he got to the end of the next Australian summer and decided to call it a day. He'll be 34 then, so it wouldn't surprise me.
"Only he knows where he's at, and you feel it could change in a game."
How long can Usman Khawaja go on for?
The leading runscorer for the series from either side, Khawaja's fairytale return to the Test team continues.
But he turns 37 in December, so how much longer will he stick around?
"In a way, even though Khawaja and David Warner are the same age, Khawaja is a much younger 36, because he hasn't spent as long playing international cricket, and there's no doubt when you've played as much as Warner has it can wear you down," Taylor explained.
"Warner's played all three formats of the game for a long time. Khawaja has played 60 Tests, which is about 40 less than David, and Usman hasn't been in the white-ball side for four years.
"David is still fit, but it's a lot harder for him having played so many games, and it takes its toll mentally as well as physically. Khawaja's had a number of periods out of the team, so he won't feel like a 36-year-old in some ways.
"You sense by the way that Khawaja is talking that there's some unfinished business for him. There's no doubt that if he wants to keep playing he looks to have at least 18 months or two years left in him."
Has Travis Head unlocked the secret of batting in India?
Controversially dropped for the first Test, Head then found himself promoted to open the batting in the absence of David Warner. He finished with 235 runs at 47.
"The fact that Travis got 49 in that run chase in Indore and 90 in Ahmedabad will boost his confidence next time Australia goes to India," Taylor said.
"He reminds me a bit of Warner, he likes to get bat on ball, which is not always the best way to play in India, but if you can make it work for you there's runs to be had. It comes down to confidence, and right now Travis has that.
"He could certainly flourish now as a player. He's cemented his spot, although we said that before the first Test and he somehow found himself out of the team! I think he's proven the selectors wrong by the way he played in India.
"He's now a permanent member of the team, and although I think he'll be back at No.5 for the Ashes, he's shown he's flexible enough to open if that's what's required in certain conditions."
Who opens in England?
If Taylor thinks Head will return to No.5 in England, that prompts the obvious question of who will open the batting for the Ashes. David Warner famously struggled in the 2019 series, where he averaged 9.50, and he's never made a Test hundred in England.
"I think that's a tough question for the selectors," Taylor said.
"We've talked about staggering the departures of Khawaja and Warner, and apart from those two you've probably got Matt Renshaw and Cameron Bancroft next in line.
"There's no doubt Usman is inked in for the Ashes, but at the moment I think he's the only one, and that's as far as I'll go on the subject, because what I think doesn't matter.
"I suspect Marcus Harris is out of the running, so it will come down to how many openers the selectors want to take to England. Do they take all four of Khawaja, Warner, Renshaw and Bancroft, or does one of Warner, Renshaw or Bancroft miss out? Then it's a matter of figuring out who plays and who's the understudy.
"That's a decision I'm very happy to leave with the selectors."
Just how good is Cameron Green?
It's hard to believe Cameron Green is still only 23 years old. He's got a Test batting average of 37 and a bowling average of 34, and gives the team the flexibility that's been missing since Shane Watson retired. His maiden century in Ahmedabad could be the start of something special.
"There's no doubt what he achieved with that century is exactly what Australian cricket was hoping for," Taylor said.
"He's a more than handy bowler, and that's probably understating it, he's a great field, which I love, but until now his batting has looked a bit nervous.
"In a way it's ironic he's got his first Test hundred in India, because the slower, lower pitches there probably don't suit him as much, particularly coming from Perth.
"In his previous matches it looked like he might have lacked the confidence to take the bowlers on, which is I think when he plays his best cricket.
"What I saw in Ahmedabad was a more aggressive Cameron Green who put the pressure on the bowlers, which I haven't seen enough of from him in his short career so far.
"That hundred should do him the world of good, because that's the way I think he's got to play at No.6, be aggressive, not cavalier, but put the bowlers under pressure. I think from here he'll only get better and better.
"This could be a watershed moment for Green, and from an Australian point of view I certainly hope so."
Can Josh Hazlewood end his injury misery? 
Josh Hazlewood has played only three of Australia's last 18 Tests. There's no doubt that his figures justify his spot in the side when he's fit, but with the Ashes to be played over such a tight schedule, can Australia risk him?
"The worry for me is Josh hasn't played the amount of cricket in the last 18 months that we all would have liked for him to have played," Taylor said.
"That's really disappointing. None of us know exactly what's going on. Fast bowlers getting injured is nothing new, that's a given, but he seems to come back, he hardly plays and then he's got another injury. I don't know where all these injuries are coming from.
"That's a concern for me, and I'm not privy to all the information to know what the answer is. I'm sure Josh would want to play a lot more than he's played.
"You suspect we'll see pitches in England that will do a bit. He's the perfect bowler for those conditions.
"The Ashes is really condensed once again, so they'll probably go in with a rotation plan for the fast bowlers, like 2019, but they should be flexible to adjust that if the situation warrants it.
"Australia needs to approach this series with the goal of winning three Test matches, because you suspect, unless there's a lot of rain, that there'll be five results. England are going to play for a result, and I think Australia will also.
"There's every chance, barring a wet summer, that we get five results."
Did one bad session cost Australia the series?
Steve Smith lamented an "hour of madness" in Delhi that cost Australia that match, and probably the series. But it's a mistake that plenty of Australian teams have made on the subcontinent.
"It's a mistake that's not easy to correct," Taylor said.
"Like everything in life, it's easier to talk about it than to actually do it. When you're playing on turning wickets, it's like playing on big seaming wickets in England where you can lose seven wickets in a session. You know it's a chance of happening, but how do you stop it?
"You can talk about it, acknowledge it, but you've still got a find a way to combat it. It's easier spoken about than achieved.
"If you look back at the series, Australia played very well for the majority of the series. It's fair to say they had as good a time as India did, but that one session in Delhi, when they were 60 in front with nine wickets in hand but collapsed in a heap, it cost them the series.
"It was that close. I don't think Australia should be disappointed with the series. They'll be disappointed they didn't win it, of course, but that's sport."
For a daily dose of the best of the breaking news and exclusive content from Wide World of Sports, subscribe to our newsletter by clicking here!
'The final frontier': How young gun's debut, captain's injury sparked Australia's iconic 2004 series win in India