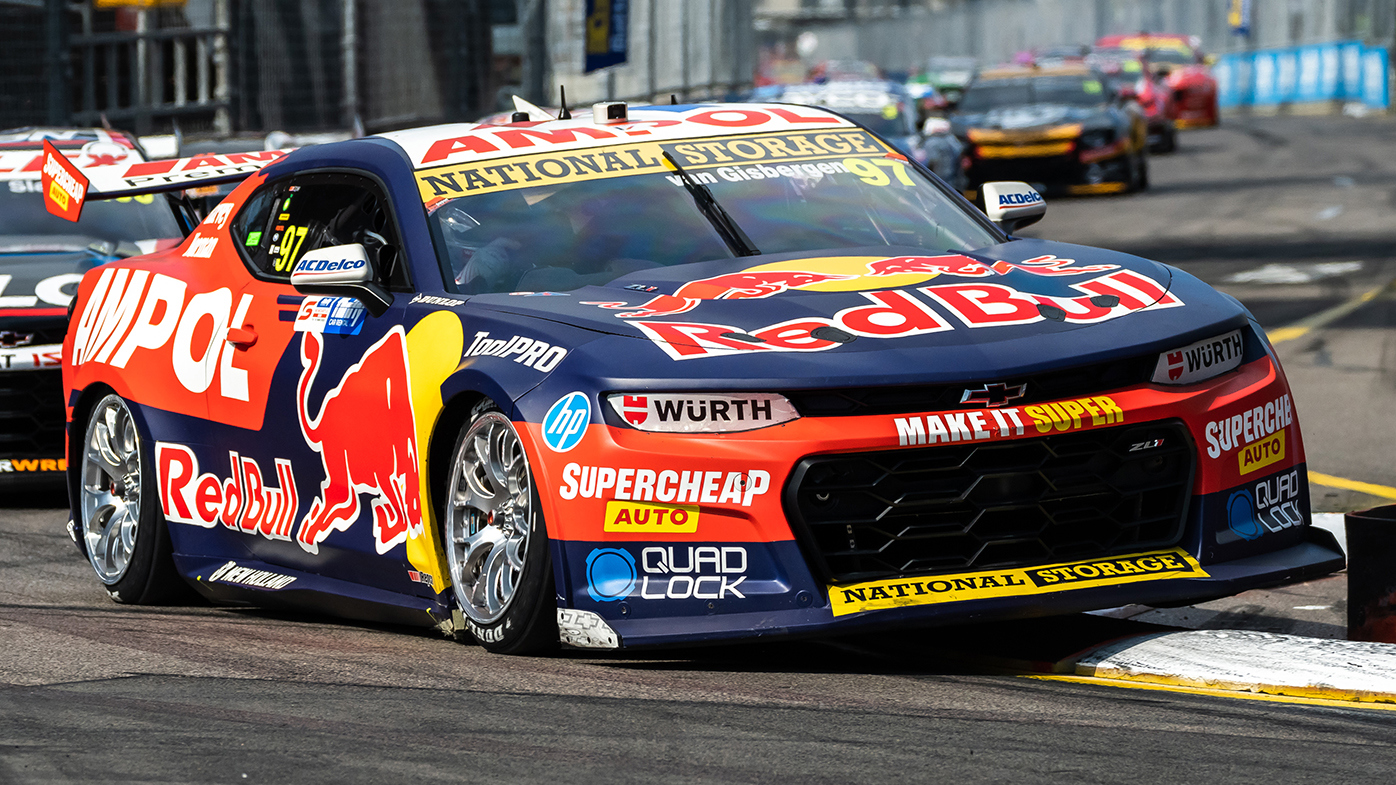 Two-time Bathurst champion Russell Ingall has hit out at long-time enemy Mark Skaife over the latter's criticism of Shane van Gisbergen.
Skaife blasted van Gisbergen after the defending champion refused to answer a question in the post-race media conference after winning in Newcastle on Sunday.
"You actually have a duty as a custodian of the sport to say what you need to say about the results and what's gone on today," Skaife said on Fox Sports' coverage.
READ MORE: Million-dollar Eels squeeze forces GF star out
READ MORE: Hamilton linked with shock move to F1 rivals
READ MORE: McGuire's public plea amid painful AFL feud
"You do – off the track – have a duty, and that (behaviour) is not right."
The Triple Eight driver called Skaife's criticism "a kick in the teeth", noting that he adopted a strategy of "if you don't have anything good to say, don't say it at all."
Van Gisbergen's unhappiness with the new Gen3 cars is an open secret, but he has tempered many of his public comments in order to avoid upsetting Supercars management.
Skaife and Ingall have a long-running feud dating back to one of the most controversial incidents in Supercars history, when the pair clashed in the 2003 title-decider at Eastern Creek.
The pair were both fined for bringing the sport into disrepute, and have remained sworn enemies since, despite working together for five years as part of the Supercars broadcast team.
"To suggest that Shane is not a worthy ambassador for motorsport really blew my circuit breaker," Ingall wrote on Facebook.
"Shane himself admitted that his so-called criticism of the new car was his attempt at trying to make the cars better for all the drivers in the category and therefore better for the sport as a whole – it was intended in a constructive way.
"Allegedly some drivers were being advised to 'toe the line' about Gen3, so for the media to then expect SVG to say the 'world is a beautiful place' in a press conference when in his opinion it's not, is misleading and not what the public or the fans want to hear."
Ingall pointed out the often-unseen work that van Gisbergen does with young drivers as one example of his commitment to the sport, before taking aim at Skaife.
"I have personally seen what Shane does away from the public eye," he wrote.
"There is no financial gain. Shane is not seeking media attention or a pat on the back.
"So to give a character assessment like he was, over the telecast on Sunday at Newcastle in my personal opinion was seriously out of order.
"Everyone has varying opinions about whether they agree or disagree as to how he conducted himself with the media over the weekend. However being an ambassador of the sport goes a lot further than just one press conference and shouldn't tar someone who has done an excellent job of promoting the sport.
"If certain media truly had issues, for the good of the sport, they should have pulled SVG aside, and have a behind closed doors chat and avoid creating the circus that has ensued – with no real benefit to anyone!"
Van Gisbergen found an ally in three-time champion Scott McLaughlin, who left Supercars in 2020 to pursue an IndyCar career in the United States.
"I think what you have said is completely honest and no BS," McLaughlin wrote on social media in reply to van Gisbergen.
"Massive respect for not leaning into the fake narrative and calling it how it is. It's only going to make things better, but people need to listen. Keep ya head up mate, always gonna be haters when you're at the top of your game."
Ingall also took aim at Skaife's claim that the reigning champion had a duty to promote Supercars, before suggesting that van Gisbergen might be tempted to follow McLaughlin's lead in quitting the category.
"There was a comment made about 'duty' being an Ambassador for the sport. Surely there must be a duty for the media not to give personal assessments – stick to racing?," Ingall said.
"I just can't get it in my head what was trying to be achieved by chastising Shane on national TV – it served no purpose at all except maybe sensationalised headlines at the expense of an individual.
"The commentary team is there to talk about the racing or related. Belittling a current champion on national TV is not racing related and does nothing to help the sport.
"I just hope that Australian Motorsport doesn't lose another champion because of politics."
For a daily dose of the best of the breaking news and exclusive content from Wide World of Sports, subscribe to our newsletter by clicking here!