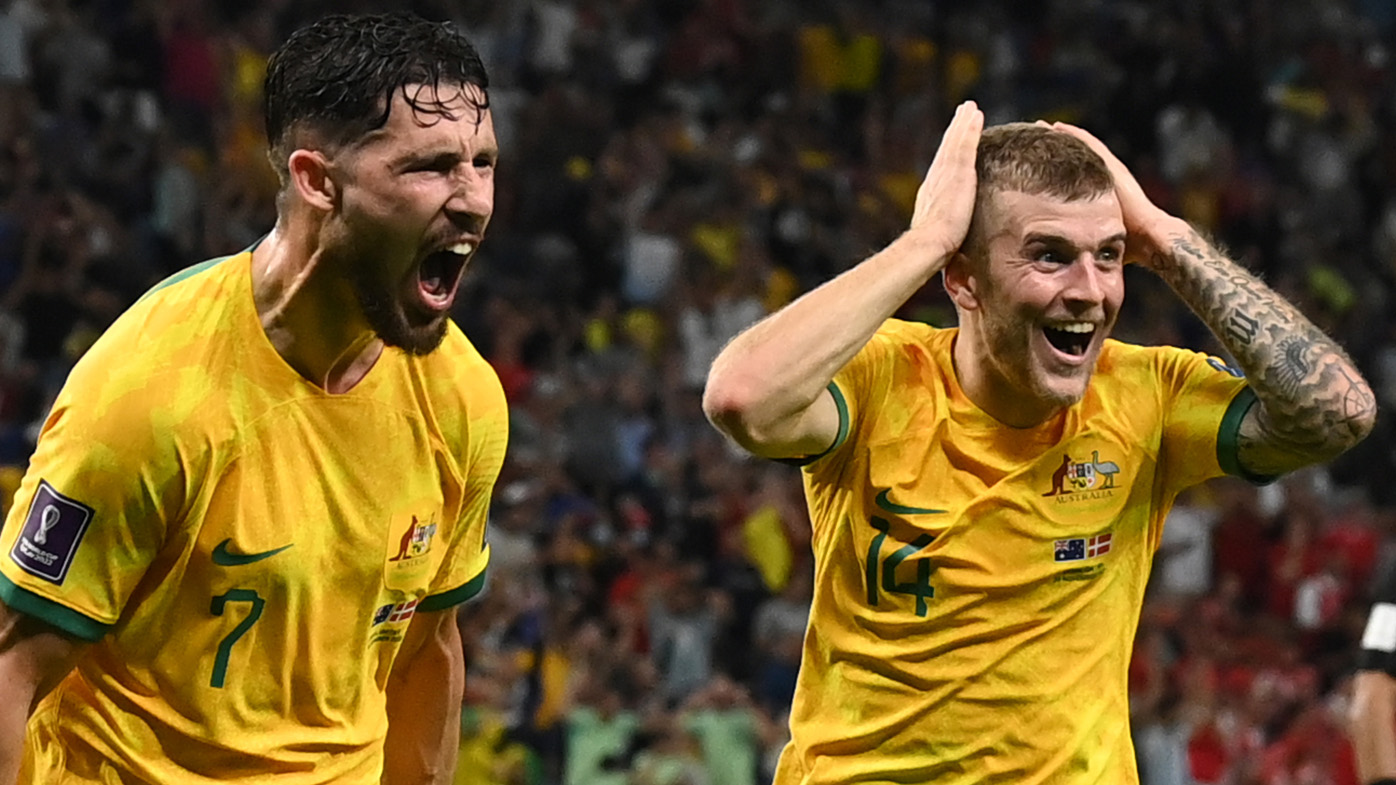 The Socceroos have been given a boost after the expanded World Cup in North America got even more supersized.
FIFA increased the size of the 2026 tournament for the second time — six years after the first — by approving a bigger group stage for the inaugural 48-team event.
By retaining groups of four teams instead of moving to three, FIFA has created a 104-game schedule that will last nearly six weeks in the United States, Canada and Mexico.
READ MORE: Million-dollar Eels squeeze forces GF star out
READ MORE: Hamilton linked with shock move to F1 rivals
READ MORE: McGuire's public plea amid painful AFL feud
Haaland smashes City goal scoring record
The final is scheduled for July 19.
After Gianni Infantino was elected FIFA president to succeed Sepp Blatter, one of his first big strategic wins was adding 16 teams to the World Cup.
Infantino persuaded FIFA colleagues that a 48-team tournament — with Africa and Asia getting more of the extra places than Europe, a big win for the Socceroos – almost doubling from 4.5 teams to just over eight.
Watch Erling Haaland, Karim Benzema and Mohamed Salah in the 2022-23 UEFA Champions League, streaming ad free, live and exclusive on Stan Sport
Arnold re-signs as Socceroos coach
That allows Graham Arnold's side more chances to qualify for a sixth consecutive World Cup, with three groups of six teams to contest the AFC's third-round qualification process, which is up from two groups of six between 2006 and 2022.
The third and fourth-placed teams will be divided into two groups of three with the winner of each qualifying and the second-placed sides to play in the intercontinental play-off, which was the Socceroos' route in 2006, 2018 and 2022.
The 16 host cities for the 2026 World Cup — 11 in the United States, three in Mexico and two in Canada — now have 24 extra games to stage on top of the 80 they already had for the inaugural 48-team tournament.
Haaland converts controversial penalty
Adding about 1.5 million more tickets will also further fuel FIFA's expected record revenue of at least $11 billion through 2026 from a tournament that will rely on using high-revenue NFL stadiums.
FIFA said the decision followed a "thorough review that considered sporting integrity, player welfare, team travel, commercial and sporting attractiveness, as well as team and fan experience."
The latest push by Infantino for more games and bigger events in a congested calendar will likely provoke more concern among stakeholders such as domestic leagues and players' union FIFPRO. They have long felt isolated from talks on football's future.
The six-week World Cup will start one year after FIFA launches a 32-team Club World Cup, which could also be staged in North America to test tournament logistics.
The Champions League in Europe also has a new format with more teams and games in the 2024-25 season.
The new World Cup format will have 12 groups of four teams instead of 16 groups of three, the plan chosen in 2017.
Both options were to go to a 32 team knockout round.
The format guarantees every World Cup team will play a minimum of three times instead of two, adding up to a stacked group stage totalling 72 games before arriving at the knockout rounds. The four semi-finalists will play eight matches, one more than last year in Qatar.
The entire 2022 World Cup in Qatar amounted to 64 games in the seventh and last edition of the 32-team format. The 1998 World Cup in France was the first with 32 teams.
Increasing the World Cup's line up was first floated in 2015. It was proposed then as a way to sweeten FIFA's 200-plus member federations into accepting much-needed governance reforms in the wake of American and Swiss investigations of corruption.
The changes come despite FIFA's own research in 2016 suggesting that the highest quality football was achieved by the 32-team format.
In Qatar, the split-screen drama created by decisive group games played simultaneously helped convince FIFA that four-team groups are better.
There was also concern that scheduling groups of three could lead to match-fixing in a final game between two teams who could both advance to the round of 32.
FIFA has now found an option it said "mitigates the risk of collusion" and also gifts itself more games to sell.
The extra 24 games should drive up the price of sponsor deals and broadcasting deals not yet signed. However, some key broadcast markets are already signed, including in the United States, Brazil and the Middle East.
The 2026 World Cup was already set to earn up to $3 billion in ticket and hospitality sales for FIFA, and massively increase the tournament attendance record. That record was set in the United States in 1994 when 3.6 million spectators attended 52 games in a 24-team event.
One downside of the 48-team format is the unbalanced nature of the 32 teams that will advance.
Eight of the 12 third-place teams will move on, creating uncertainty for some teams placing third in a group not knowing if they will advance until matches are completed days later.
FIFA also explained how teams will enter the 2025 Club World Cup, including continental champions in each season from 2021-24. That means Chelsea, Real Madrid, Palmeiras, Flamengo and Seattle Sounders already secured their places.
Europe's 12 entries can also be decided by a ranking system based on the same four-year period, with a cap of two teams per country advancing with exemptions for continental champions.
FIFA also plans to create another new competition starting annually in 2024 for continental champions. The Champions League winner in Europe will play the winner of playoffs featuring the other continental champions.
For a daily dose of the best of the breaking news and exclusive content from Wide World of Sports, subscribe to our newsletter by clicking here!