Tyson Fury, who stands 6′ 9″ in the ring, has a scary reach. Jake Paul, who recently squared off against Fury's younger brother Tommy Fury, had the privilege to witness Fury's massive reach. Ahead of his fight with Tommy Fury, in an interview, Tyson Fury greeted Jake Paul with a surprise visit. While Jake Paul was still sitting and was "5 feet" away from 'The Gypsy King', the latter fake punched him.
View this post on Instagram
Recently on Instagram, betr shared a brief clip of Paul speaking about the mentioned encounter with Tyson Fury. 'The Gypsy King' took notice of it and posted the same on one of his Instagram Stories. On being asked if he thought Fury would actually hit him, Jake Paul replied saying, "This man was like 5 feet away from me. And he went like this. And all of a sudden his arm was in my face. I have never seen anything like it. Definitely, a low moment in my career," he added by saying.
Tyson Fury asks Jake Paul to retire following the latter's loss against Tommy Fury
Recently, Tyson Fury, who 'outwitted' Oleksandr Usyk's manager to make the Ukrainian agree upon a 70/30 deal, called Jake and Logan Paul losers while urging 'The Problem Child' to retire from the sort of boxing. According to Fury, now that Paul has been defeated by Tommy Fury, the American should get a "real job" and quit fighting. As reported by Marca, 'The Gypsy King' said, "You got your a** whooped by a guy with five fights. You should retire now and go get a real job."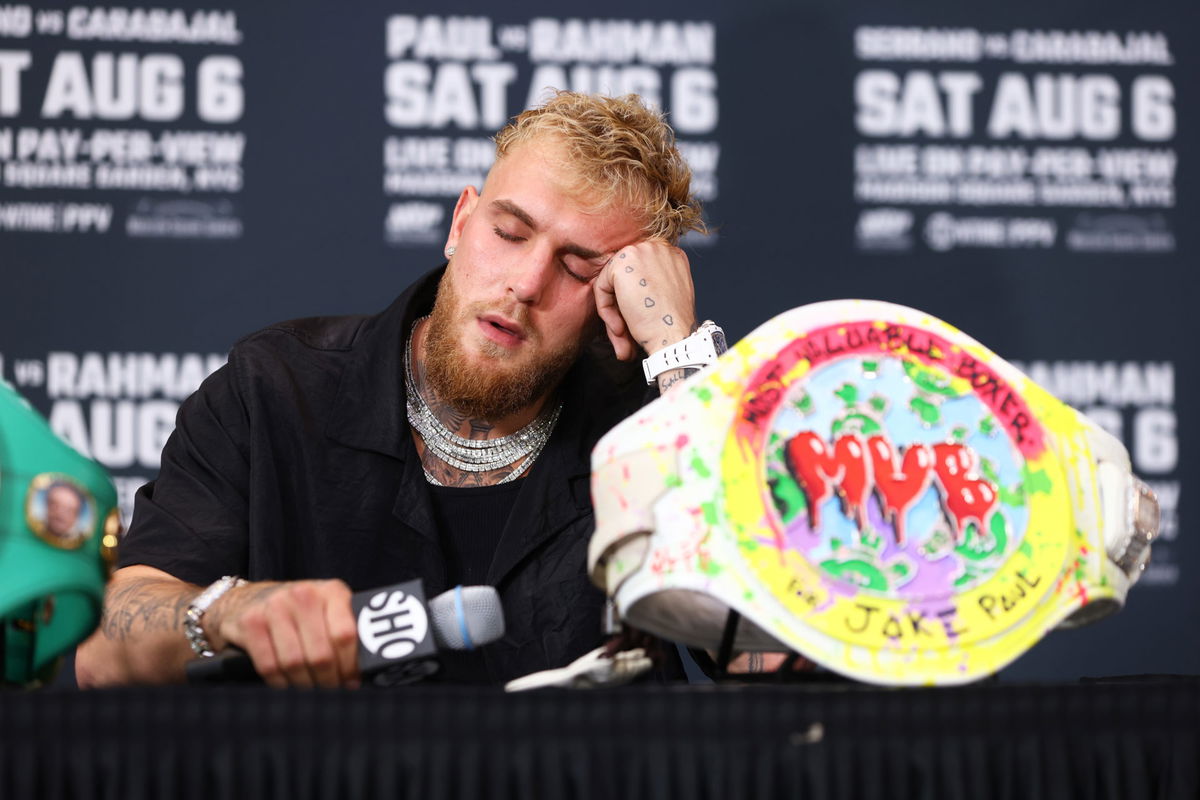 In reality, before facing Paul in the ring, Tommy Fury fought 8 fights in the ring. Prior to Paul, his last fight was against Daniel Bocianski. Before entering the ring with 'The Problem Child', Tommy fury had won 4 of his fights via knockout in the ring. With this recent win against Jake Paul, Tommy Fury now stands with a record of 0 losses and 10 wins.
Read More – "He Also Said He Would Give His Wilder Purse to the Homeless": Despite Placing Over $100,000 Bet, Fans Doubt Tyson Fury's Faith in His Brother Tommy Against Jake Paul
What do you think about Tyson Fury's massive reach that scared Paul as he was sitting? What do you have to say about 'The Gypsy King' asking Paul to retire from boxing? Let us know in the comments below.
Watch This Story – Jake Paul's Grueling Training Routine for Tommy Fury Fight
The post Tyson Fury Reminds Jake Paul of a 'Low Moment' in His Career appeared first on EssentiallySports.