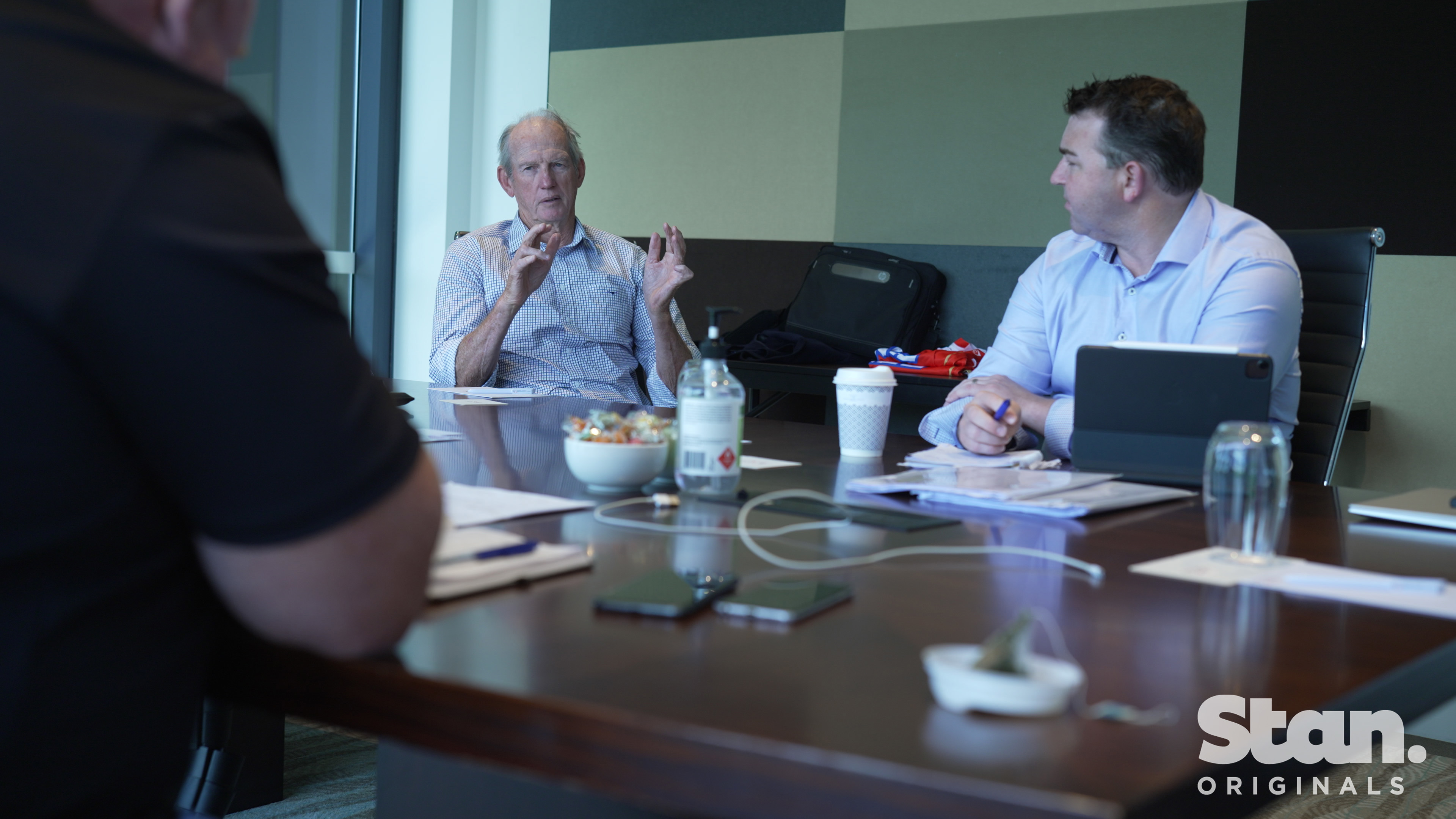 Supercoach Wayne Bennett has revealed a "strained" relationship from the Broncos that awkwardly followed him to the Dolphins.
But any rift there may have been between he and Terry Reader has dissipated during their time working together as coach and CEO of the NRL's newest team.
The pair feature heavily in the Stan Original documentary Dawn of the Dolphins.
READ MORE: Top footballers call out $620 million problem
READ MORE: Fans clash with police in ugly 'guerrilla warfare'
READ MORE: Tahs swing axe in search for 'another dimension'
The third, and final, episode of the fly-on-the-wall docuseries delves deeper into Reader, his home life, and the thoughts and feelings of the staff at Redcliffe.
While the feedback is overwhelmingly glowing of the club's chief, Bennett reveals it wasn't always that way.
"We had our relationships a bit strained before," Bennett says in episode three, which will be available to the public on Monday, March 20.
"Where he was at the Broncos for a long period of time when I was there, and he was (working in) marketing, and I had a few clashes with marketing because they are always trying to interfere with the football team.
The Stan Original Documentary Series Dawn of the Dolphins is now streaming, only on Stan.
"But we had a good relationship in the sense that we were both honest with each other.
"Since my arrival here I've enjoyed working with him, he's very good to work with. Very competent and switched on."
Dolphins create history in stunning debut
In episode three of Dawn of the Dolphins, viewers are taken inside the brutal pre-season army camp the squad was taken to south of Brisbane to instill physical fitness and mental fortitude.
The Stan cameras track the players and coaches as they prepare for the pre-season trial games, and right up to the opening round of the NRL season – the Dolphins' debut in the NRL.
The Dolphins, of course, stunned the Roosters with a victory at Suncorp Stadium that day.
For a daily dose of the best of the breaking news and exclusive content from Wide World of Sports, subscribe to our newsletter by clicking here!
The Mole's Team of the Week: 'Under rated' star comes back to bite old club; Gun recruit's sensational Broncos debut