This year's Oscar awards were held at Dolby Theatre in Los Angeles. Jimmy Kimmel was the host of the award show that night. Many top names in the film industry were present at the event. One of which was The Most Electrifying Man in All Entertainment, Dwayne Johnson.
He was wearing a baby pink jacket paired with black pants for the night. The People's Champion was looking as dashing as ever. But there was one person – who fans see him frequently with – who managed to pull out a joke on his stunningly perfect look.
Kevin Hart roasts Dwayne Johnson at Oscars afterparty
The fans are very well aware of the strong, friendly bond that the Jumanji actor and his co-star, Kevin Hart, share. Fans often see the two stars roasting each other whenever they get the slightest chance to do so. That being said, the stand-up comedian was recently seen making a funny remark about his best friend.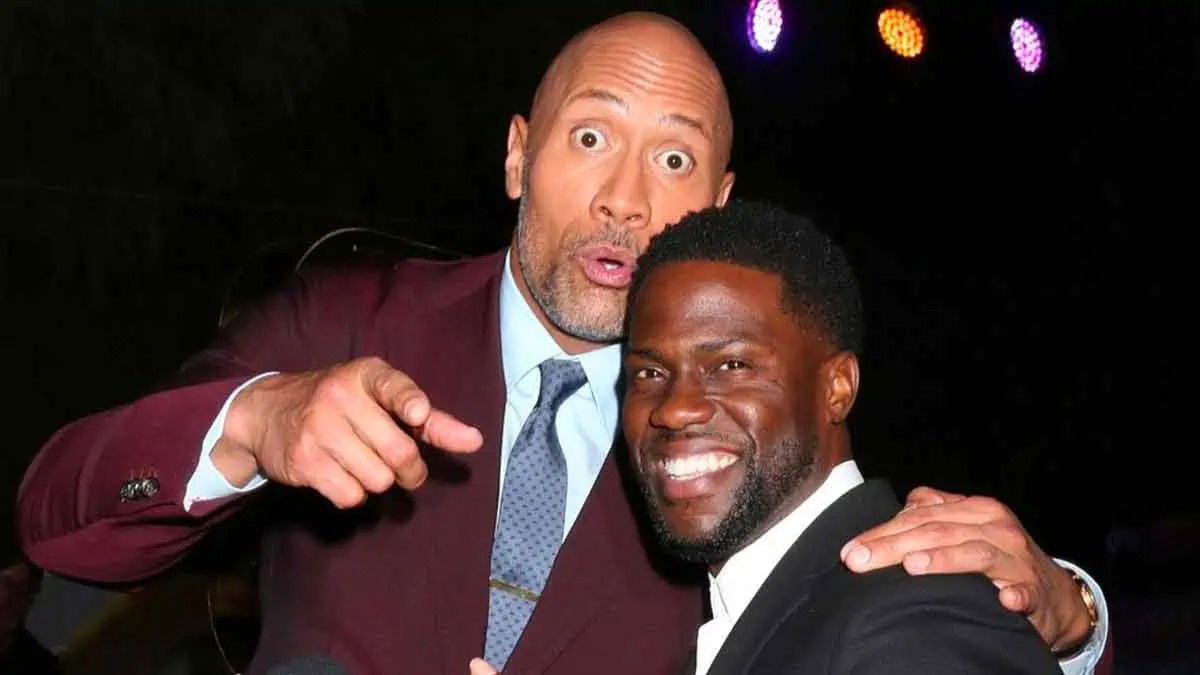 Before attending the 2023 Vanity Fair Oscar Party, Hart had a small talk with Terri Seymour from ExtraTV. When the interviewer asked him about his opinions on Johnson's Oscar look, he said, "Did he look good?." Seymour answered in the affirmative. 
He then proceeded to add a hilarious comment on The People's Champion, which said, "Cause that jackass will mess it up. Sounds good. I'm glad he looked good, though." The entire universe knows Hart would not have concluded the interview without taking a jab at his pal. 
During his brief interview, he also mentioned that he could not attend Oscar 2023 as he was caught up with his work. But he stated he knew the event was definitely an amazing one. He then gave a shout-out to all the nominated actors and actresses and movie crew members.
Also, Hart was not the only one to joke about The Great One.
Emily Blunt trolled Johnson
The Rock has an equally good relationship with Emily Blunt, as he has with Kevin Hart. The two stars are close to each other and often involve themselves in friendly banters and roasting. A day prior to the comedian-actor making fun of Johnson, his Jungle Cruise costar trolled him.
Read More – "I'm Older and I Care Less" – Kenny Omega Reveals His Future Plans Amongst Talks of Him Signing With WWE
On the night of Oscar 2023, Johnson was being interviewed when Blunt appeared. Joining the interview, the former told the 40-year-old actress that he picked her as his answer to the question about who is "the most brilliant and talented actor" he has ever worked with. In response to this, she roastingly replied, "Have you worked with any other actresses?"
Watch This Story – Top Six Hollywood Movies of Former WWE Champion Dwayne "The Rock" Johnson
Who do you think roasted The Rock better? Sound off in the comments below.
The post Dwayne Johnson's Oscars Look Garners Lukewarm Response From Frequent Collaborator: "Did He Look Good?" appeared first on EssentiallySports.