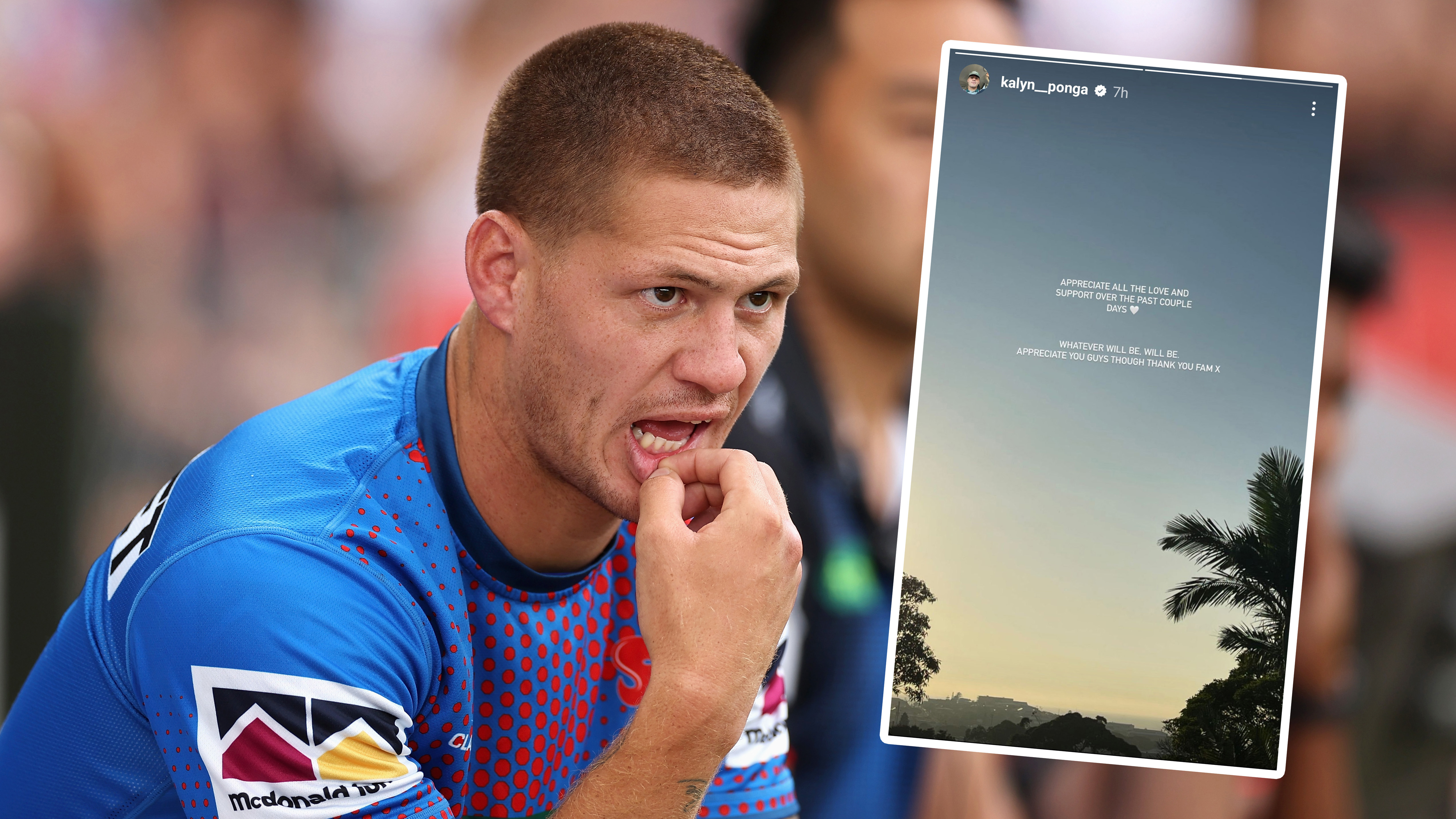 Kalyn Ponga has spoken out for the first time since he was concussed in the opening minutes of the Knights' two-point win over the Tigers on Sunday.
Ponga took to Instagram on Thursday morning as talk that the risk to his long-term health could trigger an early retirement swirled. He posted a somewhat cryptic photo to his stories thanking fans for their support.
"Appreciate all the love and support over the past couple of days," he wrote.
READ MORE: Nadal's insane 18-year run finally broken
READ MORE: Rival clubs 'shocked' by Roosters boss' proposal
READ MORE: League legends spill on Knights halfback Jackson Hastings
"Whatever will be, will be. Appreciate you guys though. Thank you fam x."
In just the second minute of the match, Ponga was involved in a head clash with Tigers forward Asu Kepaoa, which sent him straight up the players' race where he was deemed to have suffered a category one concussion.
It was the 24-year-old's fourth head injury in the past 10 months.
Kalyn Ponga suffers early head knock
He will miss the Knights' round three clash against the Dolphins on Friday night.
Phil Gould said he fears Ponga's career is "in jeopardy" and is bemused about the Knights' insistence on shifting the co-captain from fullback to five-eighth.
"The people who coach him and work with him every day probably know best what position he should be playing. I don't like to second-guess coaches for that reason," he told 100% Footy on Monday night.
"I just don't understand the obsession these days with trying to move class fullbacks into the five-eighth position. Maybe because they can go and buy another fullback but they can't go and buy another five-eighth.
"I just don't know if that's the right position for him at the moment. My concern with Kalyn – and I've retired two players because of repeated concussions in my career – is the ease with which it happens now," Gould added.
"I don't see those knocks as anything over the top, (or knocks) that should be causing that sort of problem for him. It just seems now he reacts badly to collisions that are really quite easy, and that's not a good sign.
"I think his career is in jeopardy, to be honest. I don't know how you sort through that.
"I get concerned more at the ease with which they get concussed and how repeatedly that happens."
For a daily dose of the best of the breaking news and exclusive content from Wide World of Sports, subscribe to our newsletter by clicking here!