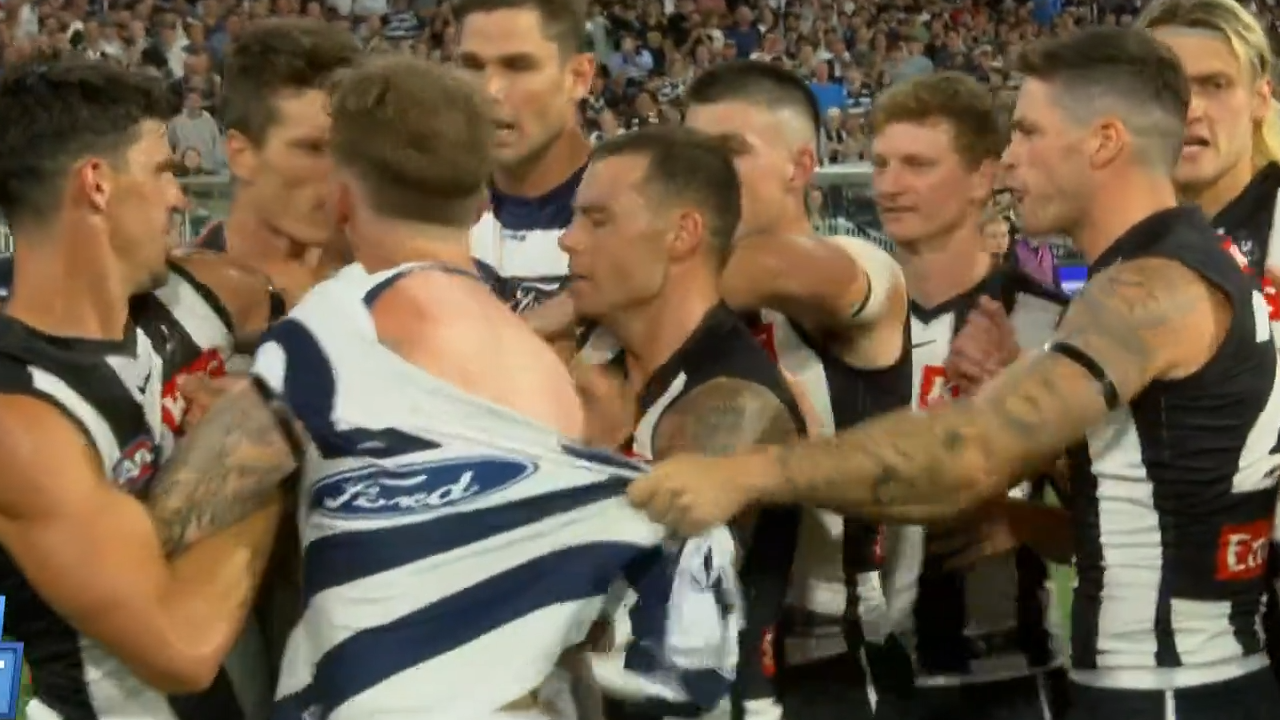 Tensions boiled over at the quarter time siren as the Pies and Cats came together in their opening round match-up.
New Geelong recruit Ollie Henry was sunk to the ground by former teammate Brayden Maynard and targeted by his former club, triggering some push and shove amongst the players.
There appeared to be no love lost between Henry and the Magpies after the forward requested a trade closer to home at the end of last season.
READ MORE: Golf war's 'amazing' hidden upside
READ MORE: Joey's radical idea to avoid awkward finals problem
READ MORE: Carlton shredded over 'dumb' finale to season-opening draw
After scoring two goals in the first term – including the opener – Irishman Zach Tuohy was animated and raced in as reinforcement.
Surrounded by Pies players, Tuohy was stripped of his jumper.
"They predicted the Henry stuff might be coming," commentator Brian Taylor said for Channel 7.
The quarter finished with six goals to Geelong and five to Collingwood as the Cats took a three-point lead into the break.
"What about this for a quarter of footy? It had everything," Melbourne champion Garry Lyon told Fox Footy during the break.
"Ollie Henry was trying to get off the ground at the quarter-time siren and then it was on.
"Big Zach Tuohy said 'don't touch my man' – and they got into each other, a jumper got ripped.
"It had a little bit of everything; 11 goals on the scoreboard, a little bit of biff, it was magnificent."
"I love that someone came in and flew the flag for Ollie Henry … I love what Zach Tuohy did," added Jordan Lewis for Fox Footy.
Henry eventually hit back exactly where it mattered most – on the scoreboard, early in the second quarter.
For a daily dose of the best of the breaking news and exclusive content from Wide World of Sports, subscribe to our newsletter by clicking here!