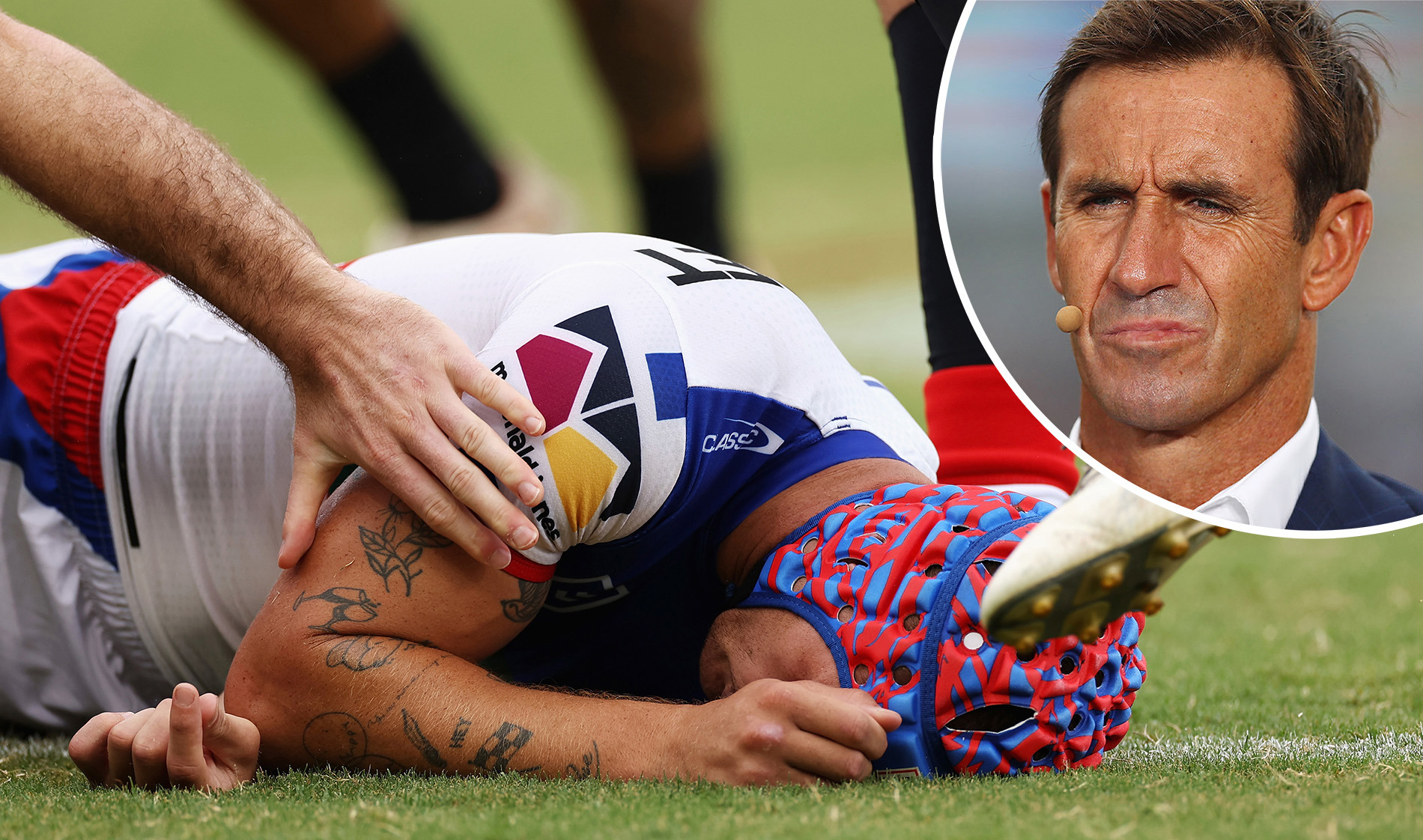 Rugby league legend Andrew Johns says the NRL must consider a break between the preliminary final and the grand final to accommodate the newly introduced concussion protocols, despite the fact that senior figures at the NRL have already ruled it out.
The league has introduced a mandatory 11-day stand-down period for any player diagnosed with a category one concussion, either during a game or at training.
The mandatory period takes the power away from club doctors to determine if a player can line up the following week after suffering a bad concussion.
READ MORE: 'Genius' Moses called out for sneaky tactic
READ MORE: 'Frantic' Blues bottle it in drawn season opener
READ MORE: 'Embarrassed' Tigers icons rip 'clueless' team
And while Johns has no qualms with the new rule, he is concerned it has the potential to rule players out of big games, like finals or State of Origins.
Speaking to Wide World of Sports' Immortal Behaviour, the Knights legend said there had to be a way to avoid such a conundrum.
"What we have to do, without a doubt, is have a week off before the grand final," Johns said.
"If the Roosters and the Rabbitohs are playing in the grand final, and god forbid Latrell Mitchell gets (concussed) in the (preliminary final) and he can't play in the grand final, can you imagine the let down?
Stream the NRL premiership 2023 live and free on 9Now
"Have the weekend off, have a two-week build-up for the game, then the stars can all play.
"Also that way if someone gets a niggle, sprains an ankle, you give them 14 days to recover.
Joey's radical NRL grand final plan: Immortal Behaviour – Ep03
"I think it's something we need to talk about."
Yet, even before that discussion has had time to build momentum it has reportedly been squashed at head office, where News Corp reports there is no appetite for a two-week build-up to the big dance.
This view has been taken despite the fact that other professional competitions around the world have been successful in introducing breaks leading up to big events.
The NFL in America has two weeks between the conference finals and the Super Bowl, while the AFL has a general bye between the last round of the regular season and the first week of the finals series.
"I think we definitely have to have the conversation about a week off," Johns continued.
"Big games, grand finals, we need all the superstars."
For a daily dose of the best of the breaking news and exclusive content from Wide World of Sports, subscribe to our newsletter by clicking here!
The Mole's Team of the Week: 'Under rated' star comes back to bite old club; Gun recruit's sensational Broncos debut