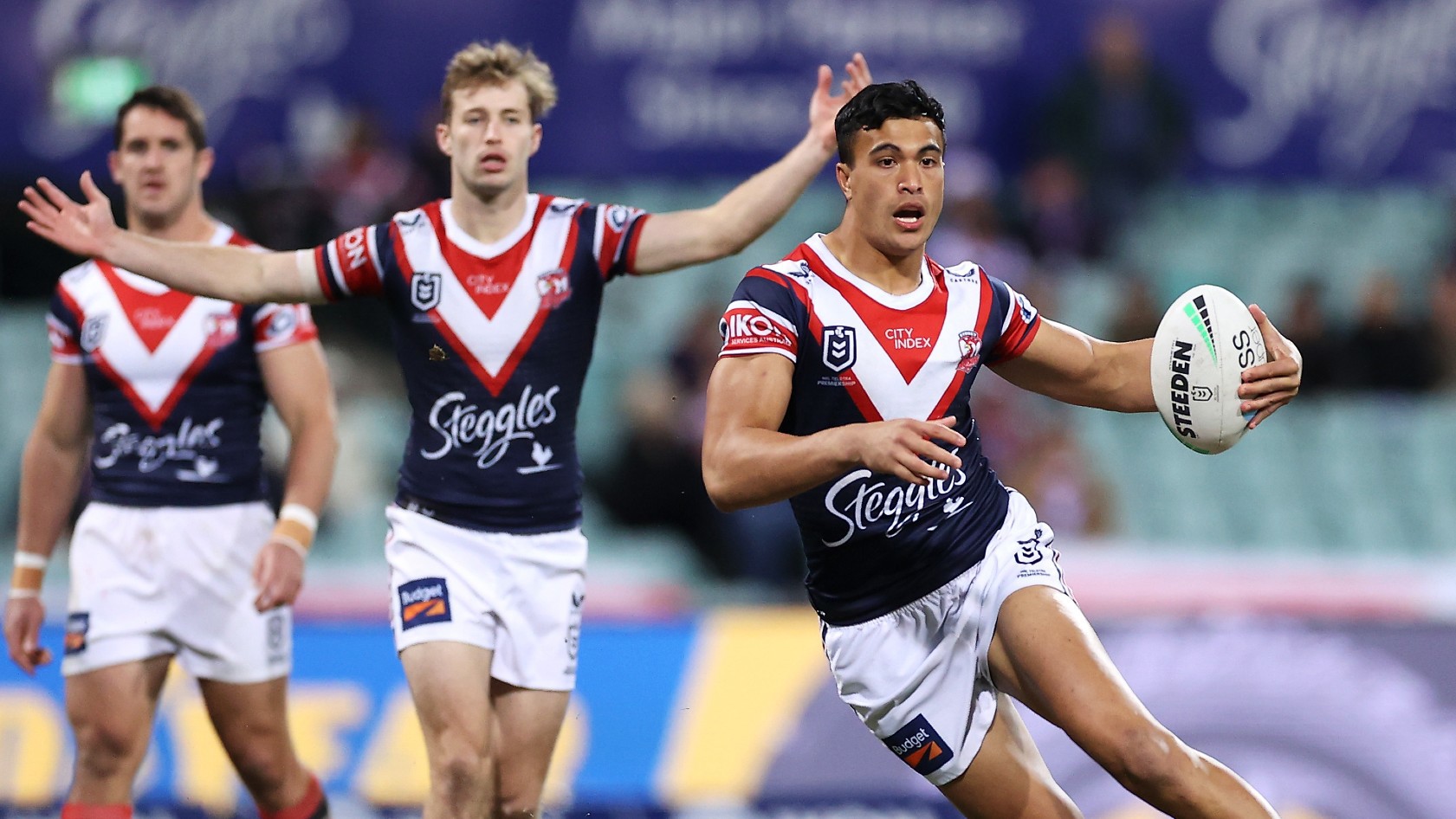 A trio of former Wallabies have applauded the aggressive pursuit of NRL talent as Rugby Australia closes in on the prized signature of Roosters star Joseph Suaalii for 2025 and beyond.
Nine's Danny Weidler reported on Friday that RA insiders felt "close" to signing the boom teenager, although they still feared a last minute play from Roosters supremo Nick Politis.
Suaalii is contracted to the NRL club until the end of 2024 but RA hopes to have his services in time for the British and Irish Lions tour the following year.
Watch the 2023 Super Rugby Pacific season on the home of rugby, Stan Sport. All matches streaming ad free, live and on demand
Suaalii was a schoolboys rugby star who met with former Wallabies coach Dave Rennie in 2021 before electing to kickstart his professional career in league.
"It's huge," former Wallabies lock turned players association boss Justin Harrison said on Stan Sport's Rugby Heaven.
"It's not new headlines, he's been talked about for a little while. Switch codes? I would say coming back to rugby union, the foundation of the sport that created the phenomenon that is Joseph… we know we also want the best Wallabies possible in a competitive environment.
"Let's remember, he's not guaranteed selection, he's going have to prove himself and he's using market forces now to generate some leverage.
READ MORE: Axe falls at McLaren after nightmare F1 start
READ MORE: World Athletics ban on transgender athletes
READ MORE: Icon's warning to NRL over 'dangerous' Suaalii move
"And we're talking about rugby union all the time. I think it's fantastic."
Another former Wallaby, Stephen Hoiles, said the lure of playing sevens at the 2028 and 2032 Olympics was another major factor.
"He's got the ability to jump between sevens and XVs," said Hoiles, a former player and assistant coach with the Australian sevens team.
NEW PODCAST! Sean Maloney, Morgan Turinui and Stephen Hoiles review Kids Round, reflect on Ireland's grand slam and try to pick the fastest player in Super Rugby Pacific
"He did a lot of sevens training only a couple of years ago while he was at The King's School. He was actually a year 11 boy training with the Aussie sevens and at that time, he was good enough to play in that team as a 16-year-old.
"So he's a once in a sort of 10, 15, 20 year player and I'm happy rugby's going for him.
"I'm also glad that the aggressive approach from Rugby Australia is towards people that know the game. So the on-boarding them or getting their skills back up to speed, it's not going to take a long time.
Johns' warning to NRL over Suaalii chase
"He's played the game up until two years ago. He's played it his whole life. So, I think he'd be a superstar and I think it's a good approach from Rugby Australia."
Former Wallaby Morgan Turinui – who like Harrison played with code-hoppers Lote Tuqiri, Wendell Sailor and Mat Rogers at the 2003 Rugby World Cup – signed off with a simple message.
"If I'm Rugby Australia, I'm saying get it done."
For a daily dose of the best of the breaking news and exclusive content from Wide World of Sports, subscribe to our newsletter by clicking here
Eddie Jones' remarkable career in pictures: Hooker, teacher and master coach improbably leads Wallabies again