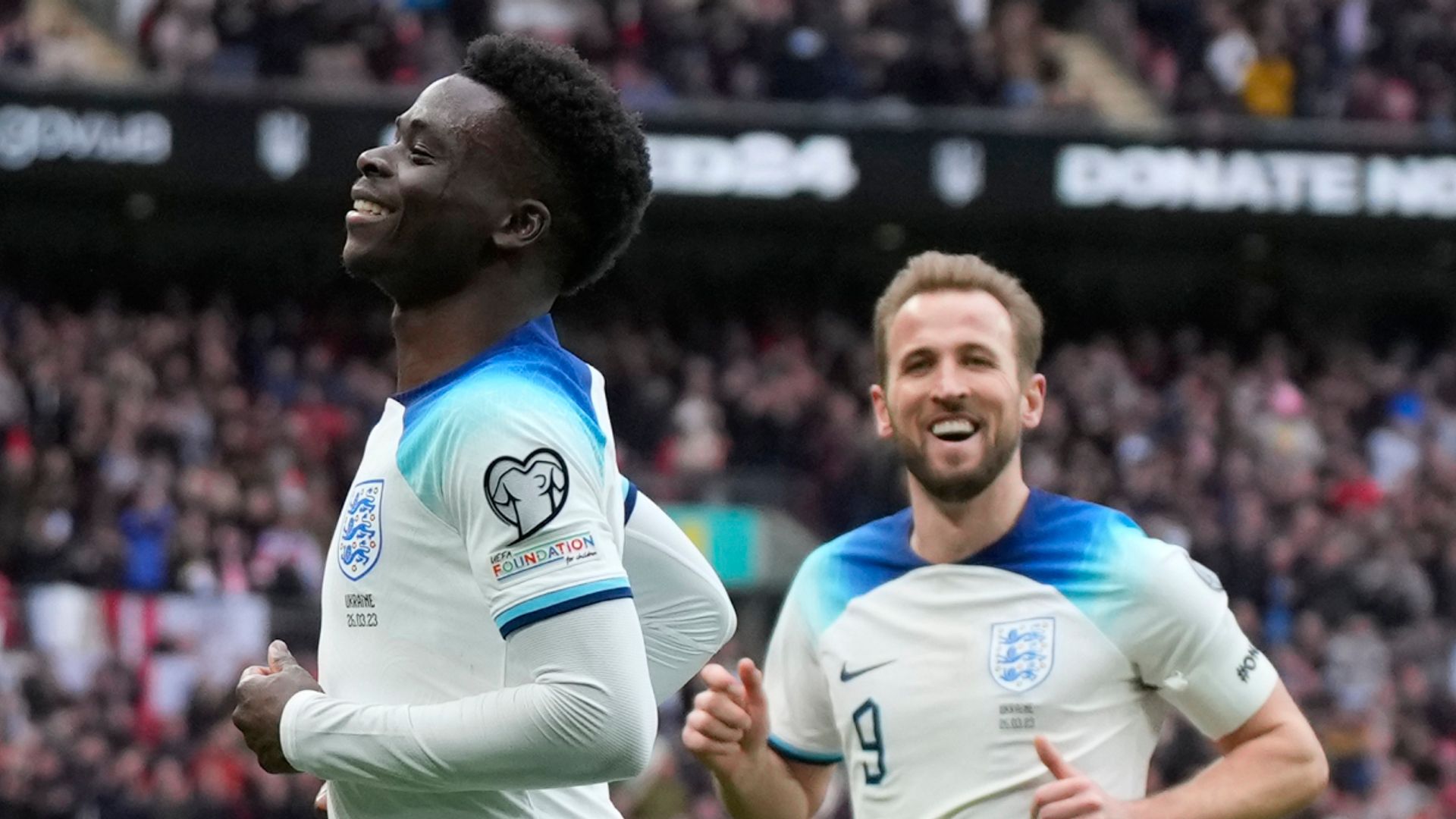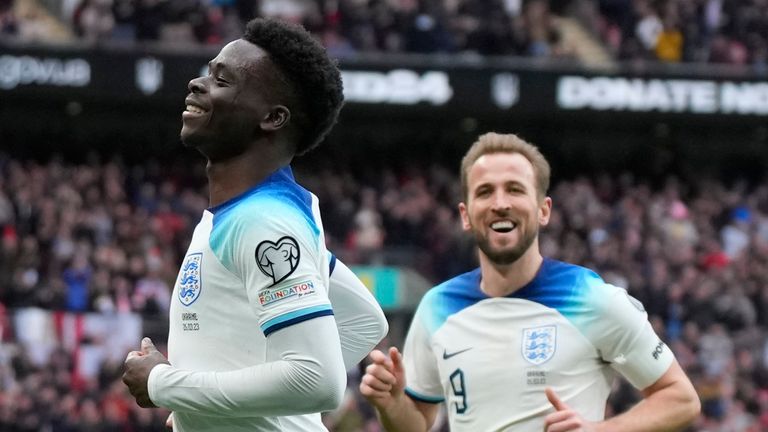 Arsenal supporters hoped Bukayo Saka might be granted a rest against Ukraine after he added another 85 minutes to his formidable workload this season in England's 2-1 win over Italy on Thursday. Instead, he played the full 90 at Wembley.
The 21-year-old, who has started every one of Arsenal's 28 Premier League games this term, is now just as important to England boss Gareth Southgate as he is to Mikel Arteta. The rest will have to wait.
His performance against Ukraine will be remembered, above all, for the sensational long-range goal which doubled England's lead only three minutes after he had set up Harry Kane for the opener.
That moment of inspiration, when he rolled Mykola Matviyenko with his back to goal and found the top corner from 25 yards out, was another for his highlights reel but his threat was constant.
Ukraine sought to crowd him out, doubling and sometimes tripling up on him on their left flank when England worked the ball to him, but most of the time they found he could not be stopped.
Vitalii Mykolenko was probably grateful to be substituted in the second half and he wasn't the only one who spent the game chasing the 21-year-old's shadow, reduced to simply bringing him down. In total, Saka won four fouls – twice as many as anyone else.
It was a measure of the problems he caused Ukraine and, even as England slowed the tempo in the second half, seeking to control and contain rather than extend their lead, he remained elusive, dribbling, driving towards goal and delivering crosses and shots.
Be it for club or country, Saka just keeps getting better.
Nick Wright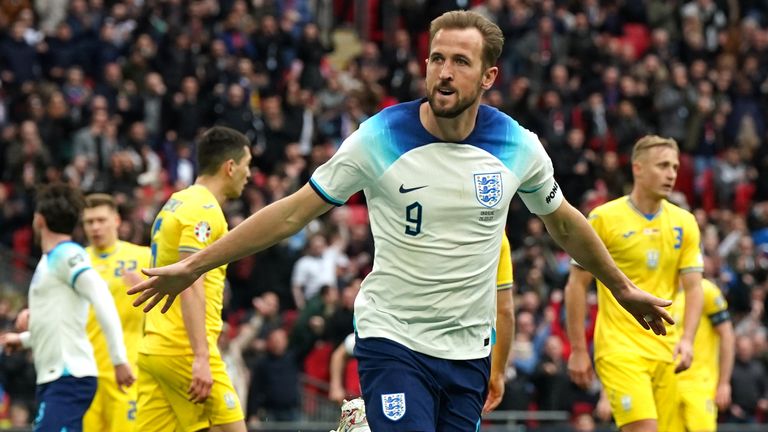 What more can you say about Harry Kane?
It was another special day in Kane's England career as he was celebrated after breaking his country's all-time goalscoring record in Naples last Thursday.
Joined by his family on the pitch before the game, Kane was presented with a commemorative Golden Boot for his England goalscoring efforts and the Wembley crowd showed just how much he means to them. A moment that Kane will remember for a long time.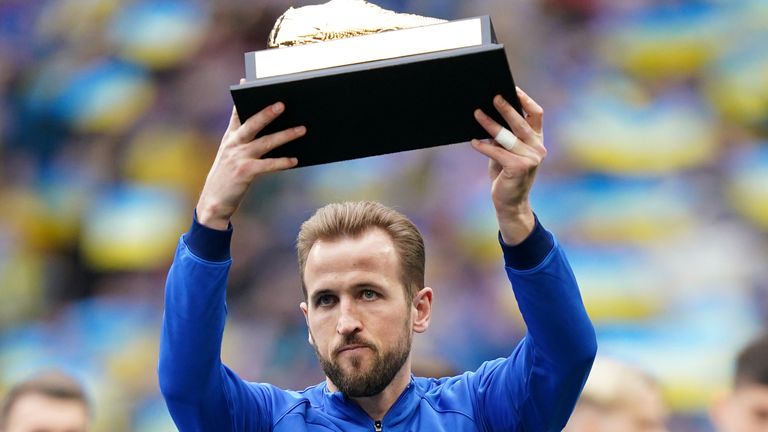 However, it was straight down to business for the Tottenham striker. A 50-yard lung-busting run to close down the Ukraine goalkeeper in the opening minutes showed there would be no let-up from the England captain, and his team-mates followed.
There was a stunned silence around Wembley when Kane fluffed his lines at the far post in the first half, failing to connect with an awkward volley following Jordan Henderson's cross. But normal service resumed a short while later when, in a similar position to his miss, he connected with Bukayo Saka's cross to hit goal number 55 and give England a deserved lead.
Now only Bobby Charlton (23) has scored more goals for the England men's team at Wembley than Kane, who has 22 in 31 appearances.
He has now netted six times in his last five appearances at Wembley and has been directly involved in 25 goals in his last 25 appearances in all competitions for England, scoring 21 and assisting four more.
The records keep tumbling, and will continue to be added to his CV, but Kane won't rest on his laurels. He's an example on and off the field to his team-mates, and if they follow, this England team will not go far wrong.
Oliver Yew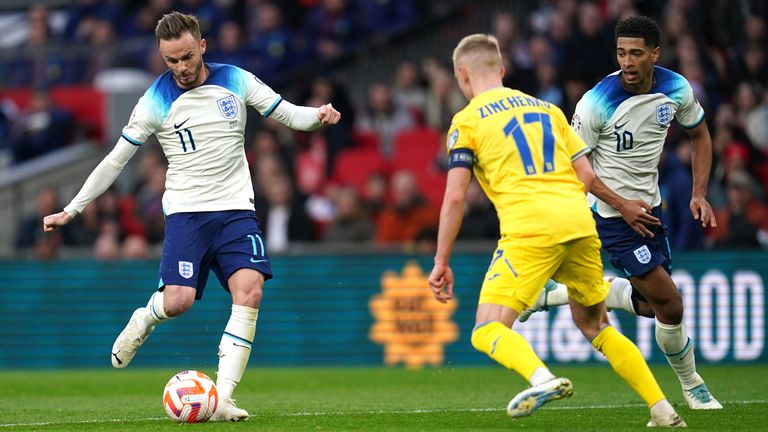 It's been three-and-a-half years since James Maddison made his England debut. But based on his second appearance for his country, he's unlikely to have to wait so long for his next cap.
The clamour for Maddison to go to the World Cup reached fever pitch but injury meant he didn't play a single minute in Qatar. It was an anti-climatic call-up in the end, with the Leicester player – who has nine goals and six assists in 20 Premier League appearances this season – unable to show on the biggest stage why his supporters were so desperate for him to be there.
But as a beneficiary of Phil Foden needing to have his appendix removed and Jack Grealish being rested, Maddison got that long-awaited runout in an England shirt on Sunday. The headline-grabbing moment was missing but the 26-year-old gave Southgate plenty to ponder before the next set of internationals in June.
Maddison created more chances than any of his team-mates, and when he left the field on 85 minutes he was joint top of the shots and accurate crosses stats too. It was a reflection of a wholehearted performance where, with a smile on his face, the midfielder threw all he could into his performance to make an impact.
A wonderful turn was followed by a wayward shot in the second half. That really would have underlined his arrival – or should that be return? – but when Southgate reflects on what he's learnt from these two games, the fact he can count on Maddison to add depth to his options in attacking areas will be one of those takeaways.
Peter Smith
Is England's place at Euro 2024 now assured? Of course, Gareth Southgate would never admit it, but even with two out of eight games played, England are near-certainties to finish in one of the two qualification spots in Group C.
They were favourites to do so from day one but in the space of their first four days of European qualification, they have overcome their two trickiest hurdles in the group, including a first win at reigning champions Italy in more than 60 years.
Roberto Mancini's side have fallen from grace since then but after England's drab defeat at the San Siro in the Nations League last year, there was no guarantee they would not return to their poor form that was put on hold during the World Cup.
But a professional performance, including seeing out the end of the game with 10 men surprisingly comfortably, set up Sunday's game with Ukraine with a spring in England's step – and after some tricky times over the past 12 months, this felt as routine a victory as the Three Lions have produced in some while.
A double-header with Malta and North Macedonia awaits during the next international break in June, and after beating the two other relatively successful nations in their group already, few would now expect anything less than England emerging from those games with 12 points out of 12.
Gareth Southgate's detractors will say results against an off-colour Italy and a Ukraine side who were beaten to World Cup qualification by Wales aren't much to hang your hat on.
But it's to his credit that qualifying at canter has become such a routine expectation in his six years in the job. Behind the scenes, he'll already have one eye on building to overcome England's next big challenge in only 15 months' time – adding some silverware to the mix.
Ron Walker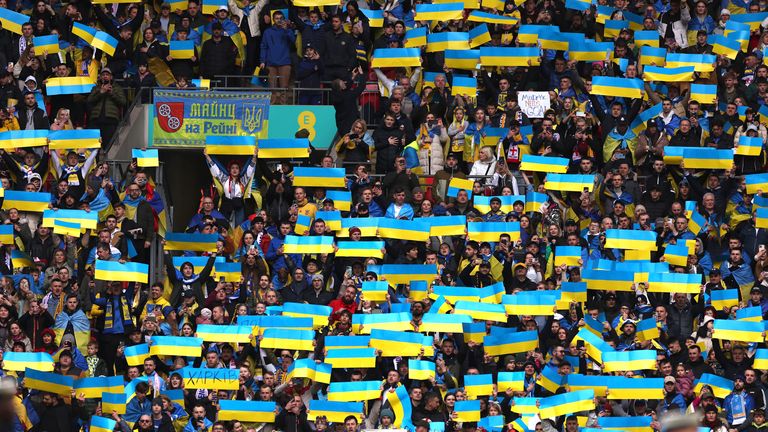 This was a game won by England before half-time, but Ukraine showed plenty of pride to effectively draw in the second period. Indeed pride was shown by all those in yellow and blue throughout, as this was about much more than just football.
A thousand Ukrainians, and the families who have welcomed them into their homes here since fleeing their war-torn country, were given free tickets by the FA to the game at Wembley. In an 85,000 sell-out, there were 4,200 Ukraine fans who didn't stop chanting for their team and for the badge.
After Harry Kane was acknowledged for becoming England's all-time leading goalscorer, there was a poignant moment on the pitch prior to kick-off as the two sides then joined together to pose with a Ukraine flag emblazoned with "Peace".
There would be no fairy tale under the arch, but a synchronised thunderclap from the players in front of their supporters at the end symbolised the unity, strength and spirit of a nation in the face of growing adversity.
Andriy Shevchenko, the former Ukraine striker, told Channel 4: "I'm so pleased the fans appreciate the effort of the players. England were much better and have more quality, but I liked the team's approach, and we leave with our pride intact. Ukraine showed a good fight today."
This was not a case of England not wanting to embarrass their opponents but of Ukraine making life difficult in the second period, and reminding onlookers of their quality. There is plenty of football left in this qualifying campaign and they will feel on this evidence they can run Italy close for second place in the group.
Ben Grounds
England will play home and away against Italy, Ukraine, North Macedonia and Malta in Group C. After Sunday evening, their fixture list is as follows:
Jun 16, 2023 – Malta vs England
Jun 19, 2023 – England vs North Macedonia
Sep 9, 2023 – Ukraine vs England
Oct 17, 2023 – England vs Italy
Nov 17, 2023 – England vs Malta
Nov 20, 2023 – North Macedonia vs England
England's next game is a Euro 2024 Qualifier in Malta on June 16, kick-off 7.45pm. Gareth Southgate's side then North Macedonia at Old Trafford on June 19, kick-off 7.45pm.
Ukraine are back in action in North Macedonia for a Euro 2024 Qualifier on June 16 – kick-off 7.45pm – before a home game against Malta on June 19, kick-off 7.45pm.