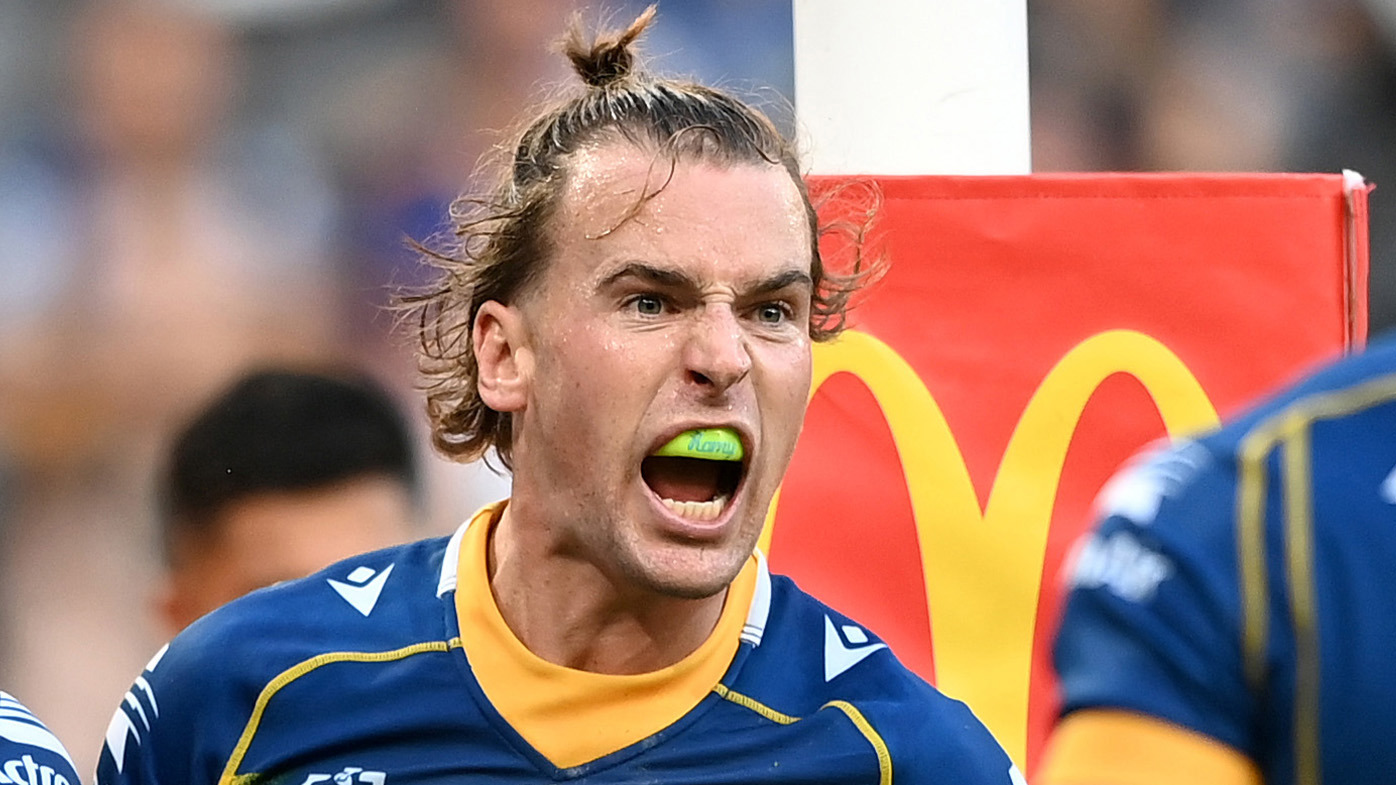 Parramatta captain Clint Gutherson says he's open to a move to the centres as the Eels search for a game-breaking fullback to add to their roster.
The Sydney Morning Herald's Michael Chammas revealed on Nine's 100% Footy on Monday night that the club had made enquiries about signing Jayden Campbell from the Gold Coast.
There is widespread disbelief that Parramatta would consider shifting Gutherson from the No.1 position, with Wide World of Sports commentators Paul Gallen and Billy Slater both baffled by the news.
READ MORE: 'Homesick': NRL club to land prized recruit
READ MORE: Eels target revealed after Gutherson curveball
READ MORE: 'Fiery' spat revealed amid Hawthorn struggles
Speaking on Sky Sports Radio's The Big Sports Breakfast, Gutherson revealed the move to chase a new fullback came out of a discussion with coach Brad Arthur.
"It was just me and Brad, we just had a conversation," he explained.
"We've got three spots to fill in our top 30 and we were just going back and forth with what we need and where we want to go in the next few seasons as well and I just said, 'Let's just look at everyone'.
Slater 'can't believe' Eels fullback pursuit
"I'm there to win games. I've always said I just want to win. I just love playing footy and want to win games."
Gutherson conceded the news had taken on a life of its own over the weekend, overshadowing the team's first win of the season.
"I think it's been blown out of proportion, to be honest," he said.
"I said to Brad I'd be happy to do anything to win games of footy, as would anyone else in the team.
"It's probably been blown out of the water a little bit too much but it's just one of those things that once the media and player managers get a hold of it, it takes off and I think that's what it's doing now."
The 28-year-old, who joined the Eels in 2016, said he's not fussed by the outcry this has caused.
LIVE UPDATES: NRL teams round five
"That was all the conversation me and Brad had, I hadn't spoken to anyone else at the club and now it's turned into this," Gutherson noted.
"I'm sort of used to be thrown out there and sort of used as bait a bit, but that's the way it goes, it doesn't bother me one bit, I woke up this morning with a smile on my face."
Gutherson played three State of Origin matches for New South Wales in 2020 at centre, and said a more permanent move wouldn't worry him.
"I'd be open to it but Brad said to me they're not just going to do it to do it," he said.
"It's one of those things, they're going to make sure if it does happen it's going to be the right player but from all I've heard there's been no talks with anyone else yet.
"So, I'm just going about my business and I think I'm only getting into the best part of my career now so it's going to be hard to find someone to replace me and I'm going to keep that spot as long as I can."
For a daily dose of the best of the breaking news and exclusive content from Wide World of Sports, subscribe to our newsletter by clicking here!
The Mole's Team of the Week: Superstar's 'stunning' return; silver lining in Tigers' 'lacklustre' loss