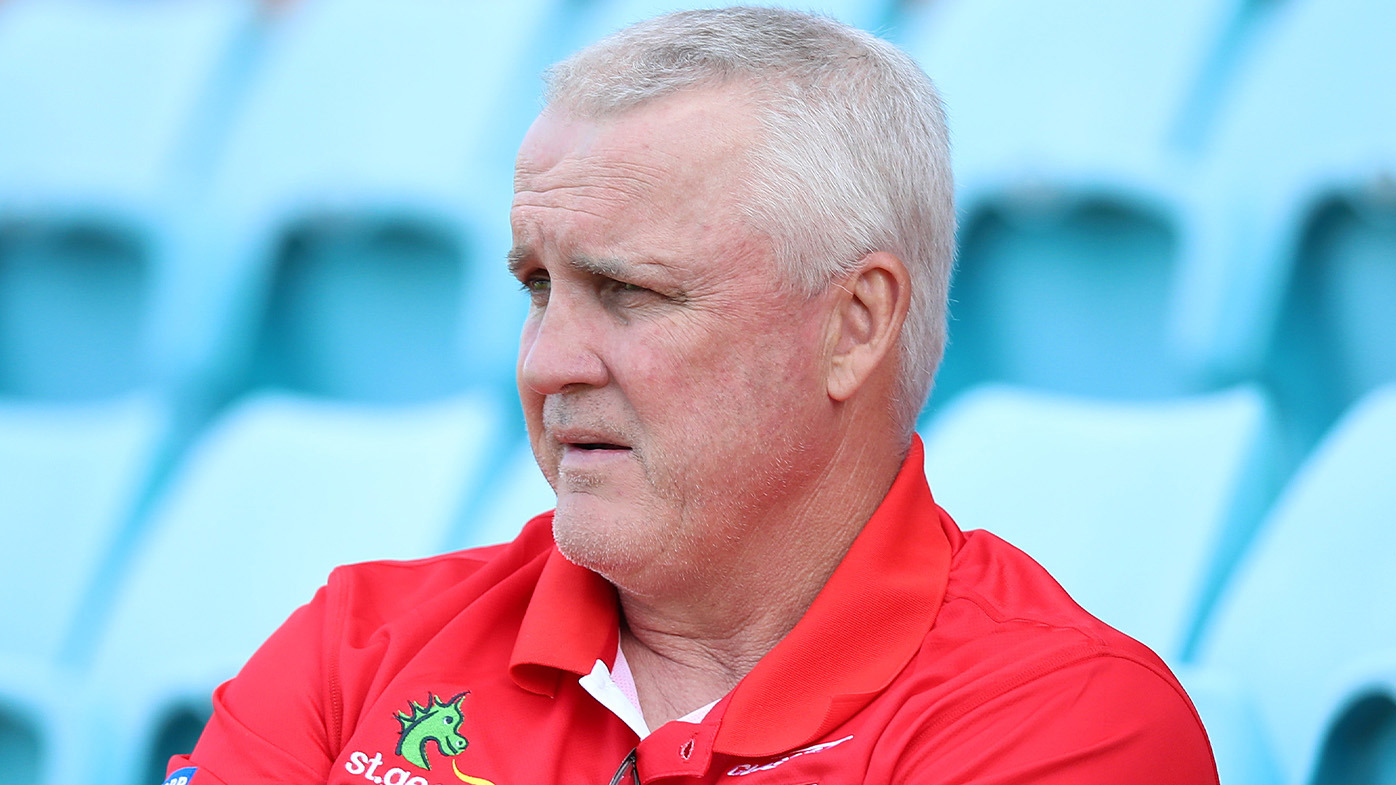 Paul Gallen believes Anthony Griffin being booted as Dragons coach after this season is inevitable and has declared St George Illawarra bosses must "make the call now".
Billy Slater has also weighed in on the drama a week after The Sydney Morning Herald revealed that Griffin would have to reapply to remain as Dragons coach beyond this season, with the Storm legend saying the club's decision had made for "an added distraction".
The off-contract Griffin cut a dejected figure in his Kogarah Oval coaching box as the Dragons were hammered 40-8 by the Sharks on Sunday night.
READ MORE: 'See ya later': Gus' stinging message for Suaalii
READ MORE: 'Cry babies' sledge ignites Suaalii war of words
READ MORE: Dragons veteran to leave club immediately
The veteran mentor's side has now conceded 40 points two weeks in a row, with the crushing defeat to the Sharks following a 40-18 loss to the Broncos in Brisbane.
"I don't know Anthony Griffin, but let's be frank: the writing has been on the wall for some time. It really has," Gallen wrote in his Monday column for Wide World of Sports.
"It's been clear for a while that the Dragons would look at other options for 2024.
"When you look at the back end of last year, the off-season and the big losses the last two weeks, it's pretty clear what the outcome is going to be, and they have to make the call now.
"Any player that they want to re-sign, or any player that they're chasing, is going to want to know who's coaching the side."
Gallen noted "rumblings about players being unhappy and not wanting to play for him", as well as the 6am dust-up in Mudgee involving teammates Mikaele Ravalawa and Zane Musgrove.
"When things like that are being made public then there's issues," Gallen said.
"If they do decide in the next couple of months that someone else will be in charge next year, it does leave Griffin between a rock and a hard place for the rest of 2023. It rarely ends well when a decision like that is made.
"Anthony Griffin is an old-school, genuine bloke who I think would still give 100 per cent for the rest of the year even if he knew he was being punted, but usually you end up writing off the rest of the season and starting your rebuild early."
Slater said the Dragons' performance against the Broncos in round three, in which the scoreline was 18-18 with less than 10 minutes left on the clock, showed they had "enough to work with".
"But again, once you make those sort of statements early in the season, when the season is still right in front of you and it's up to you how you want to handle it, it just gives an added distraction outside of what you need to focus on," Slater said on Wide World of Sports' The Billy Slater Podcast.
"So, they need to start defending, especially late in games."
The Dragons will meet the Dolphins, Titans, Raiders and Roosters over the next month.
Griffin's men are placed 14th on the ladder after round four, ahead of the Eels, Raiders and Wests Tigers.
For a daily dose of the best of the breaking news and exclusive content from Wide World of Sports, subscribe to our newsletter by clicking here!
The Mole's Team of the Week: Superstar's 'stunning' return; silver lining in Tigers' 'lacklustre' loss