Rey Mysterio took his rightful place in the world of pro wrestling headlining the WWE Hall of Fame Class of 2023 last Friday. The entire wrestling community acknowledged his contribution to the Stamford-based company and the entire industry by giving a standing ovation.
The former WWE World Champion has been named as the top of the class, which includes The Great Muta, Stacy Keibler, Tim White, and Andy Kaufman as well. The ceremony featured the incredible speeches of the inductees, which made the night of millions of fans and peers at Crypto. Com arena in Los Angeles, California, a day before WrestleMania 39 begins.
Rey Mysterio recalls his father's lack of belief in him
The legendary elder Mysterio was full of emotion while delivering a heartfelt speech during the iconic moment of his life. He thanked his wife, his late friend, legendary WWE star Eddie Guerrero, and the entire WWE community as well for their contribution to his massive success of reaching this far.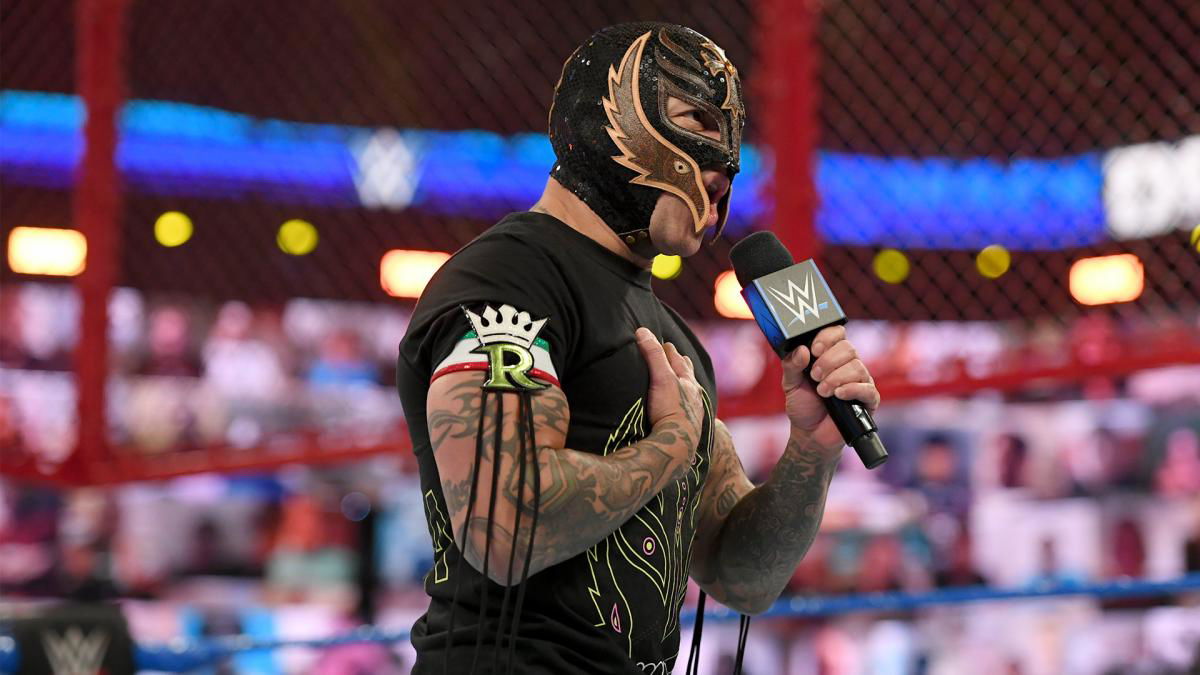 Besides having a decorative in-ring career in the past, the greatest luchador is continuing as an active in-ring performer in WWE. But all this name and fame didn't come easy. Like many other wrestling icons, the 48-year-old star has had his fair share of hardships, of dealing with doubts coming from random sources, sometimes from very close ones.
Mysterio shared a story of his father not believing in his ability to be a wrestler in his early days, but now he is here receiving the most prestigious honor in the wrestling world. Connecting the dots, the Hall of Famer noted, 'they have never given a license to a minor. A kid who is about to turn 15 years old, unheard of a wrestler, so they tell me, my parents have to sign a waiver that says if anything ever happens to me in the ring, my parents are responsible, not the boxing and wrestling commission and surely not the promoter."
Read more: Dominik Mysterio Gets Brutally Roasted by Rey Mysterio's Close Friend, for Whom He Was Willing to Donate His Kidney
Mysterio added, "My dad signed the document thinking that eventually I will quit or tap out sooner or later. He thought it would be tough for me and I would probably pick something else, but I proved my paps wrong."
However, Rey Mysterio is not the only one who had to deal with doubts coming from his father. Another legendary star also shares the same past as him.
Cody Rhodes has a similar (not the same) experience with his late father
Cody Rhodes, who is hours away from facing off against Roman Reigns to win the coveted Undisputed WWE Universal Championship, has stated he came back to WWE because of his late father, Dusty Rhodes' unfulfilled dream. But it seems like his father has also some sort of disbelief in him as he didn't ever teach his son the basics of the sport.
However, while Reigns brought out the issue during his promo to taunt the American Nightmare, the latter shared his different perspective regarding it. During an interview with Sports Illustrated, Rhodes noted, 'I think that was what his bandwidth was for his it wasn't to teach me how to do a hip toss, a body slam or what to do if the crowd goes off the rails in the middle of your interview."
Speaking of Rey Mysterio, he is currently gearing up for the first-ever match against his son Dominik Mysterio at WrestleMania night 1 after months of build-up. This will also be the second father-son contest at 'Mania after Vince McMahon competed against his Shane McMahon at WrestleMania X-7.
Watch the story: GSP Offered By WWE
What are your thoughts on Rey Mysterio's comment on his father? Let us know in the comments.
The post "He Thought It Would Be Tough for Me": Rey Mysterio Reveals Why His Father Never Believed in His Wrestling Dream appeared first on EssentiallySports.