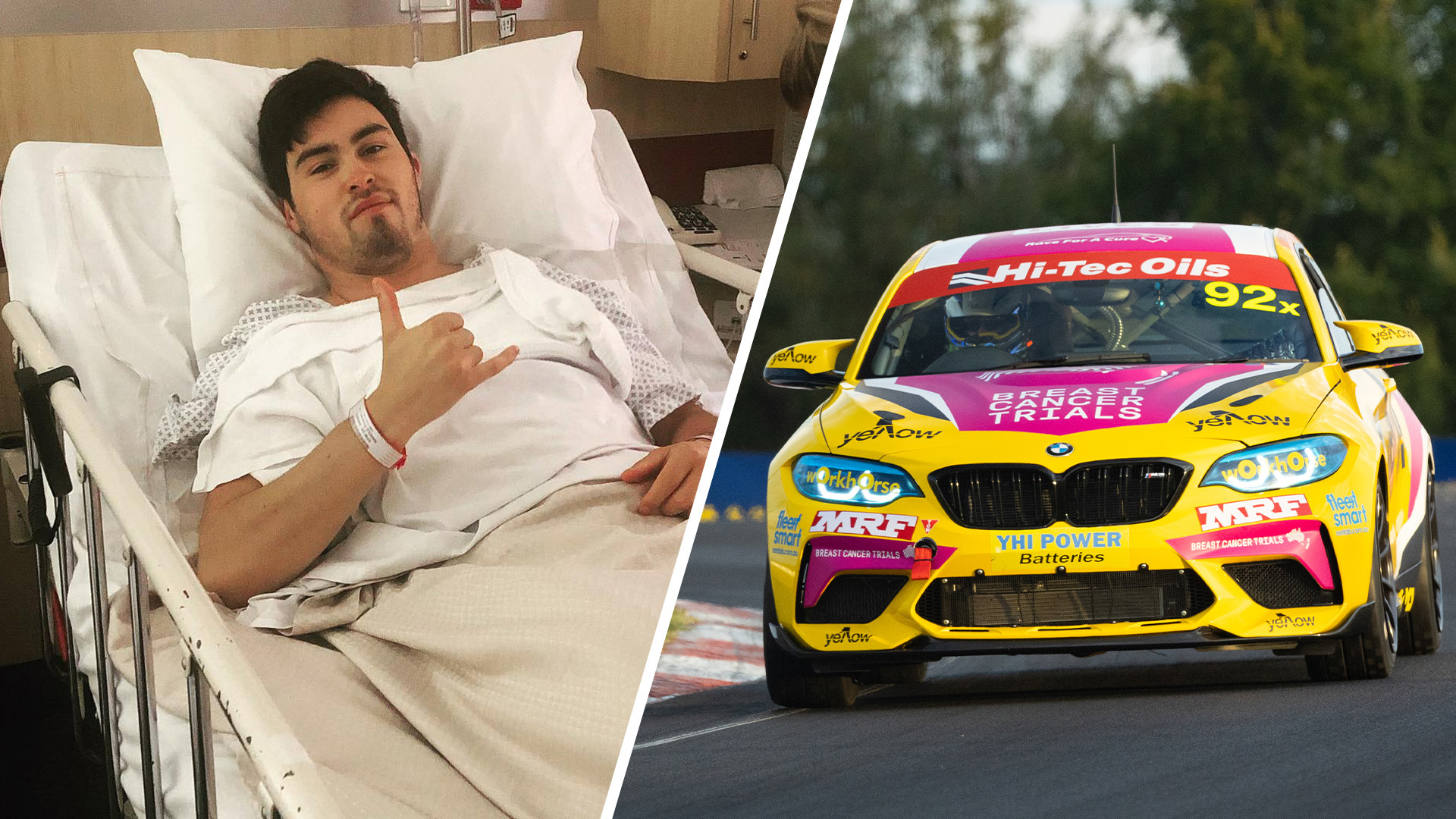 Supercars star Thomas Randle is giving drive to survive a whole new meaning.
The Sandown 500 podium finisher will contest the Bathurst 6 Hour this weekend under the "Race for a Cure" banner in an effort to raise funds for breast cancer research.
Randle will join brothers Ben and Michael Kavich behind the wheel of a BMW M2, a car that should contend for outright honours.
Stan Sport is the only place to watch the 2023 SpeedSeries. All the action streaming ad-free, live and on demand
A win would be the perfect promotion of their cause, one which is near and dear to Randle who began his own cancer battle in 2020.
Only a few months after standing on the Supercars podium for the first time, Randle was diagnosed with testicular cancer.
Thankfully, it was caught early and Randle can now say he is cancer-free having undergone treatment.
READ MORE: F1 team embroiled in $220 million stoush
READ MORE: 'Awful': Freddy's rocket for misfiring guns
READ MORE: Norman fumes at 'petty' Augusta National snub
The car he'll race at Mount Panorama is unmissable, dressed in the iconic Yellow Pages colours and the bold Breast Cancer Trials pink.
"This is something that's close to my heart in terms of myself, going through my own cancer diagnosis," Randle told Wide World of Sports.
"I know it's a different type of cancer but it's still the same sort of thing in terms of trying to get early detection and that's what really saves lives so we can just spread some awareness.
"A podium or a win would be a bonus, but it's a really fun weekend with the team and I think if we can raise some money for Breast Cancer Trials, that would really be an added bonus."
Australia has just one hospital dedicated to cancer treatment – the Peter MacCallum Cancer Centre – which relies on donations.
Nearly 13 per cent of all cancer diagnoses in Australia last year were breast cancer related and approximately 57 people are diagnosed each day – roughly 20,000 annually.
Randle said he wouldn't wish anyone to go through the trauma he endured.
"I'd be lying if I said it wasn't a pretty depressing place being in a hospital," he explained.
"The staff are lovely and they try and help you out as much (but) at the end of the day, it's not a nice place to be.
"You go in there and you leave the hospital feeling worse than when you came in. You just want to be out of there as quick as possible. The least time you can expect in hospital better.
"I'm pretty fortunate to be on the other side of things now. So, yeah, now for me it's just routine checkups and really if I only have to go to the hospital to do check-ups."
Motorsport has been hit hard by cancer in the past 20 years.
The likes of Supercars champions Dick Johnson and John Bowe have both survived cancer as has driver-turned-commentator Neil Crompton more recently.
The community lost Jason Richards in 2011 to a rare cancer.
"It can really hit anyone and it's the same thing with breast cancer, it's a silent killer, as they call it," said Randle.
"It has one of the highest death rates when it's detected late. It's one of the leading cancer types of deaths among women.
"I guess that's the message that I've been trying to spread over the last few years with my own health battle – even though I'm through the other side of that now, which is great.
"There have been quite a few guys that have messaged me over the last few years telling me that, that they've been diagnosed or what do they do next. I never thought I would have been on that side of the fence."
Randle encouraged anyone to donate via the Breast Cancer Trials website.
He will be among the star drivers in the Bathurst 6 Hour, a field that includes two-time Supercars winner Marcos Ambrose, two-time Bathurst 1000 winner Will Davison, and TCR Australia Series winners Tony D'Alberto and Will Brown.
The Bathurst 6 Hour gets underway on Sunday at 11:45am with coverage live, ad-free, and exclusively on Stan Sport.
For a daily dose of the best of the breaking news and exclusive content from Wide World of Sports, subscribe to our newsletter by clicking here!
Sons-of-speed: The second and third-generation racers following in the footsteps of Australia's legends