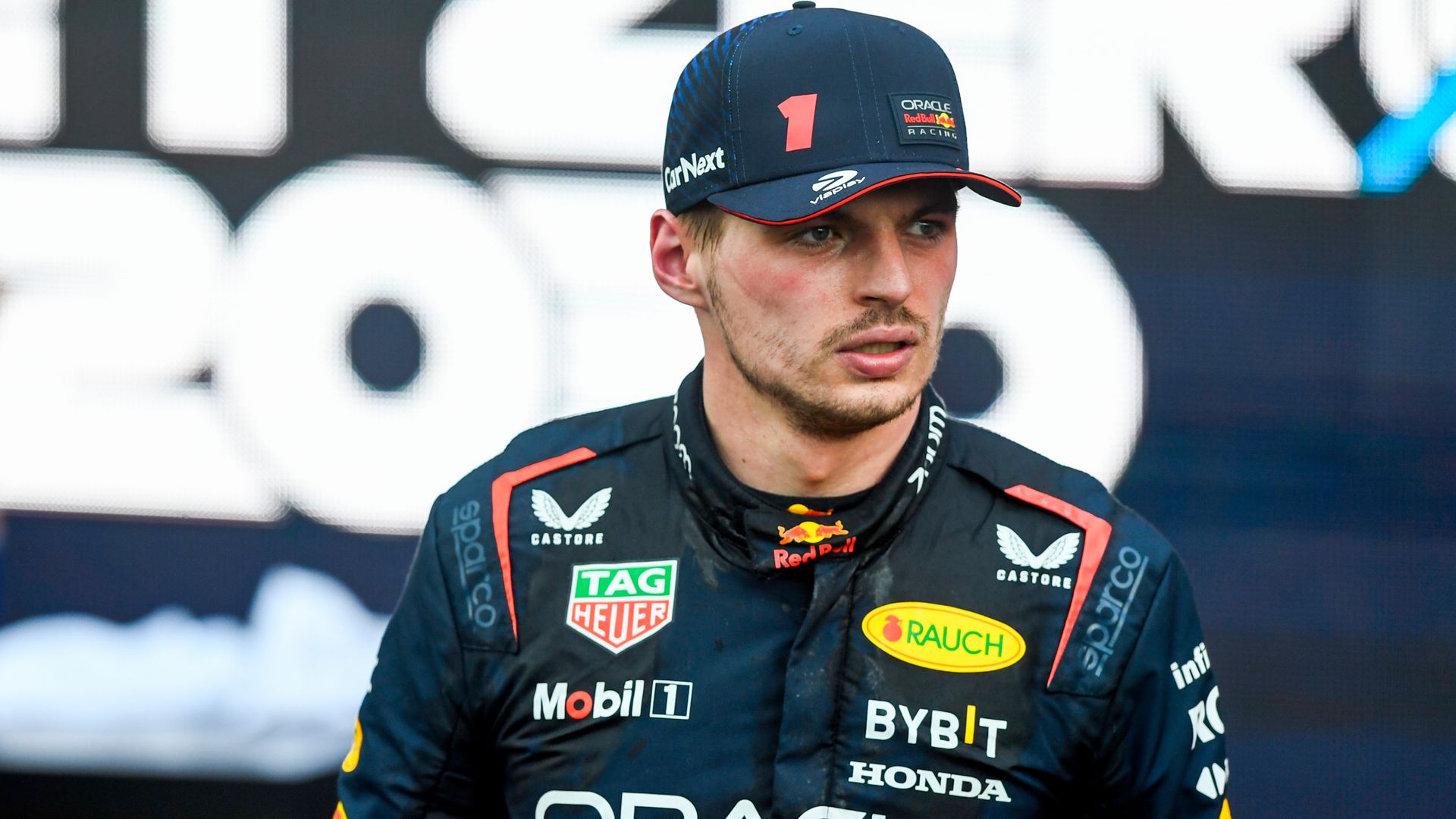 Max Verstappen pitted from Azerbaijan GP lead on lap 10 after Nyck de Vries had stopped on track; Safety Car period began after Verstappen's stop, allowing race winner Sergio Perez and Charles Leclerc to get ahead of Dutchman; Verstappen forced to settle for P2 as championship lead cut
By Jonathan Green
Last Updated: 30/04/23 5:36pm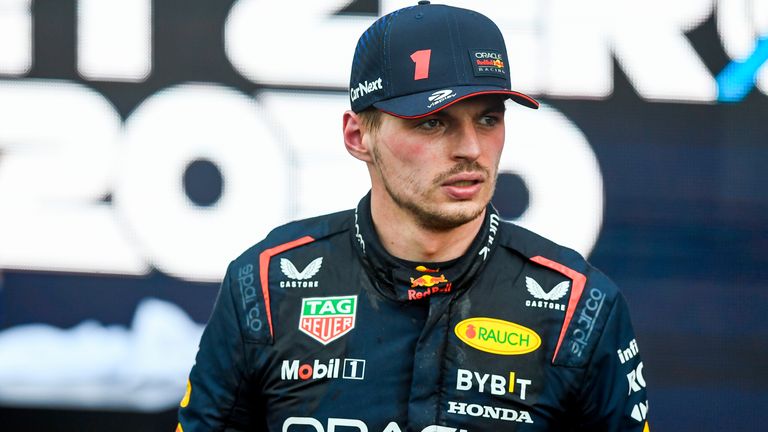 Max Verstappen says Red Bull need to review how they decided to bring him in for a pit stop moments before a Safety Car period at the Azerbaijan GP.
Verstappen pitted from the lead on lap 10 shortly after Nyck de Vries had stopped on track after clipping the inside wall at Turn Five, damaging his front left suspension.
The world champion boxed under yellow flag conditions but moments later the Safety Car emerged, allowing Sergio Perez and Charles Leclerc to lose less time in their own stops and seeing both get ahead of Verstappen.
Perez went on to win the race in Baku ahead of Verstappen and the Dutchman believes his team should have spotted De Vries' car was damaged and likely requiring the Safety Car to clear.
"I saw that there was a car stopped, I thought he maybe just locked up," Verstappen said in the post-race press conference.
"In hindsight, I mean, I can't see that, but it's something to review. I mean, clearly, you could see there was one wheel damaged and it looked like he was not going to drive that anyway back to the pits, even if he would've reversed.
"So something to look at, because of course that then did hurt my race after that."
Ahead of Verstappen's pit stop, Perez had closed the gap to his team-mate from 1.2secs to half-a-second.
"I was not entirely happy with the balance, but also, in hindsight, I was probably not pushing it enough initially in some corners," Verstappen added.
"But that should never be the indication that if there is a car stopped, to just pit, because you know that if there is a Safety Car, then you lose even more time by [pitting] than staying out.
"So there are a few things to look at. But I always know that the team tries to do the best thing and maybe just today we got unlucky."
While Verstappen was able to swiftly pass Leclerc on the Safety Car restart, the Dutchman felt his attempts to immediately put the pressure on Perez cost him the chance to attack later in the race.
"After the Safety Car, I tried to put the pressure on Checo to try and get into that DRS. I think one time I was pretty close to getting it, but it was just hanging in there really close, trying to really catch up.
"I probably damaged my tyres a bit too much early on for such a long stint. So then at one point, I just settled in, tried to do a little bit my own thing to not damage the tyres completely to the end."
Verstappen has seen his championship lead over Perez cut to six points after the Mexican's victory in Sunday's Grand Prix and Saturday's Sprint in Baku.
Horner: We didn't expect a Safety Car
Red Bull team principal Christian Horner conceded that with the benefit of hindsight the team would have left Verstappen out for another lap.
But Horner said the decision to pit was made in the belief that De Vries was going to be able to continue.
"Twenty-twenty hindsight we'd have left Max another lap. At the time, from what we could see we decided to pit Max as he was starting to struggle a bit with the rear of the car and Checo was right up behind him," Horner said.
"From a strategy point of view it was the optimum time to take the stop and the glimpse we got of De Vries, all four wheels are on the car, he's not hit the barrier and the engine was running so it looked like he would select reverse and carry on. You never expected that to go to a Safety Car.
"With 20-20 vision we would have just done one more lap and gone from there but at that point you don't know if Charles (Leclerc) is going to pit and suddenly he jumps both of them.
"We didn't have the visibility of De Vries. There was a quick shot of him and it was a black set of lines looking like he had outbraked himself, gone straight on and hadn't hit the barrier. Usually if you see a car in the barriers here it's Safety Car but there was no sign of it having hit the barrier. It was only subsequently on replays that you saw the track rod was broken.
"Sometimes you get lucky, sometimes you don't."
Did Red Bull make a mistake or were they unlucky?
Analysis from Sky Sports F1 pundit and former Aston Martin head of race strategy Bernie Collins…
"I went through the radio comms again and Verstappen is complaining about his tyres and is pushing for the pit stop and so before they have seen [De Vries] on TV and probably before the incident they've decided they want to do the pit stop.
"The question is, did Red Bull have time to react? They only tell Verstappen to box out of Turn 19 so they're trying to tell him quite late. They do have time to think 'oh, should we just wait one more minute'. It's one more lap, he's maybe at risk from Perez so there maybe would have been more comeback if Perez had overtaken him that lap and there was no Safety Car.
"But there should be people watching – there is a big team watching back at Milton Keynes – and they'd be looking at GPS, so they'll see that car has stopped on GPS and hasn't moved before the image is available on the TV. They'll have a big screen with all 20 onboards so it should have been possible to pick it up. Maybe there was a bit of excitement that the pit stop was coming and was a slight distraction.
"It is close on time. It would have been a quick reaction from Red Bull to pick it up and you can put it down to unfortunate timing. But Red Bull are very, very strong at strategy, are a very, very good team at what they do and they don't make mistakes very often. They will review and see what their workflow should have been to get that right.
"The downside of one more lap is that Perez was looking strong at this point in the race, he wasn't struggling so much on his tyres so if Perez had been fit to overtake Verstappen on that lap then you would have had a reasonably angry Verstappen on the radio. And even that overtake, even if it's just between the two of them, that would have cost Verstappen time so it would push him further back in the field into another driver. It's not what you want if it hadn't gone to a Safety Car. There was definitely risk and reward."
The Formula 1 season continues immediately with the Miami GP from May 5-7. Watch qualifying at 9pm on Saturday with lights out at 8.30pm on Sunday. Get Sky Sports