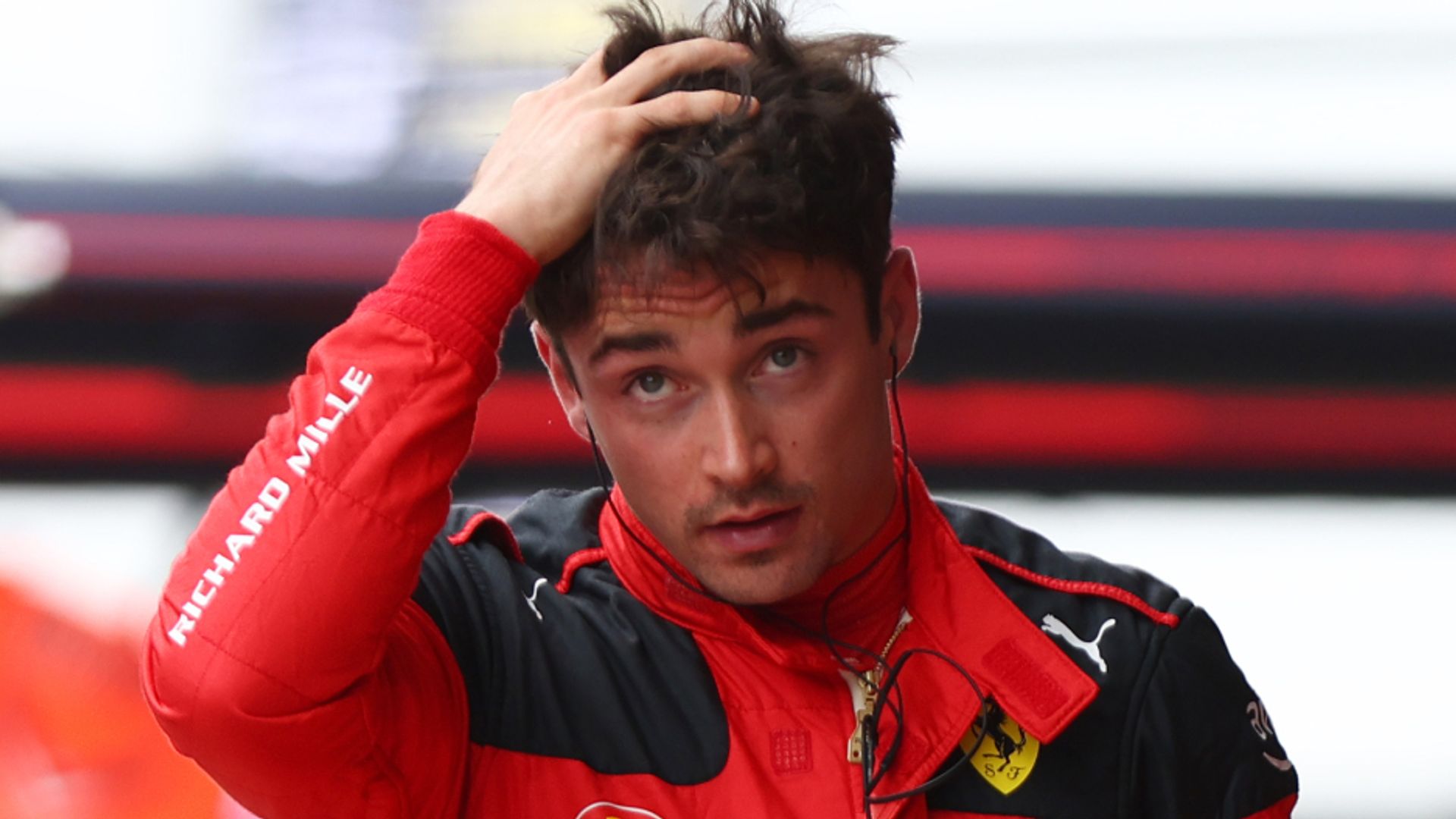 Charles Leclerc will start the Spanish GP from 19th after being knocked out of Q1 for the first time since 2019; Sergio Perez rues lack of confidence after surprise Q2 exit; watch the Spanish Grand Prix live on Sky Sports F1 from 12.30pm on Sunday with lights out at 2pm
Last Updated: 03/06/23 7:59pm
Charles Leclerc was left adamant that there was "something off" with his Ferrari following a shock early exit in Spanish Grand Prix Qualifying.
Leclerc will start Sunday's race in 19th having only managed to finish in front of Williams' Logan Sargeant at the Circuit de Barcelona-Catalunya.
Usually one of the most accomplished drivers on the grid over one lap, Leclerc was out of sorts in the damp conditions, with his struggles even more bizarre in light of Ferrari team-mate Carlos Sainz claiming second place.
The Monegasque was at a loss as to what had change from final practice earlier on Saturday, during which he was happy with the feel of the upgraded SF-23.
"I don't have the answer for now, the only thing I can say is that the left-hand corners were undriveable, the right hand corners the feeling was very similar to this morning," Leclerc said.
"But there's just something off in the left-hand corners that we need to analyse and understand, because it was very hard.
"I thought it was the tyres on the first set, but then went onto the second set and the feeling was exactly the same.
"I just had no grip at all in the left-hand corners from the rears. We'll check the car and I will be very surprised if everything was fine."
Leclerc, who is the only non-Red Bull driver to have taken a pole position this season, was knocked out in Q1 for the first time since the 2019 Monaco Grand Prix.
"So many moments and even during the first red flag I nearly lost it and put it in the gravel in the left-hand corner and these were just very, very weird behaviour so we'll have to check.
"Even this morning in those conditions, in the tricky conditions of this morning. I was feeling really good with the car. So there's something off."
Ferrari later confirmed that they had been unable to carry out an inspection of the car on Saturday evening due to parc ferme regulations.
The Italian team are expected to provide further updates on Sunday morning, with Leclerc potentially facing a pit-lane start if changes are made to the car.
Perez hopeful of podium despite lack of confidence
Almost joining Leclerc in making a Q1 exit was Red Bull's Sergio Perez, who was also shown up by his team-mate Max Verstappen's far superior performance, with the Dutchman comfortably claiming pole.
Since appearing to ignite a world championship contest with Verstappen by winning the Azerbaijan Grand Prix in April, Perez's form has significantly dropped off.
The Mexican failed to score points in Monaco last weekend after a qualifying crash that left him starting from the back of the grid, and another error cost him in Barcelona.
Having barely made it through to Q2, Perez was on a flying lap when he went into the gravel at Turn 5, ruining his tyres with no time left to pit for a fresh set, and leaving him 11th.
"I touched I think the wet patch and I just lost the car," Perez said. "I managed to control it, get out of there but then the tyres were just too hot, simply too hot to do anything in the lap, unfortunately, but it is what it is.
"I was not very comfortable with the car to be honest. I had a good final practice, I think we managed to make some good progress, but all the way through qualy I was not that confident. So, I think things were looking a little bit tougher for us."
Unlike in Monaco where overtaking is near impossible, Red Bull's stunning pace, which has resulted in them winning each of the first six races of the season, should enable Perez to fight back through the field on Sunday.
"Hopefully we are able to recover and get into some points and hopefully get back into the podium positions," Perez said.
"We've got our strong race pace, but everything is pretty close at the top so it's going to be difficult to make some progress."
Sky Sports F1's live Spanish GP schedule
Sunday June 4
8.50am: F3 Feature Race
10.20am: F2 Feature Race
12.30pm: Grand Prix Sunday Spanish GP build-up
2pm: THE SPANISH GRAND PRIX
4pm: Chequered Flag Spanish GP reaction
5.45pm: Indy NXT – Detroit GP
8pm: IndyCar – Detroit GP
Will Red Bull's winning run in F1 2023 continue at the Spanish GP? Watch all the action live on Sky Sports F1 from 12.30pm on Sunday. Get Sky Sports