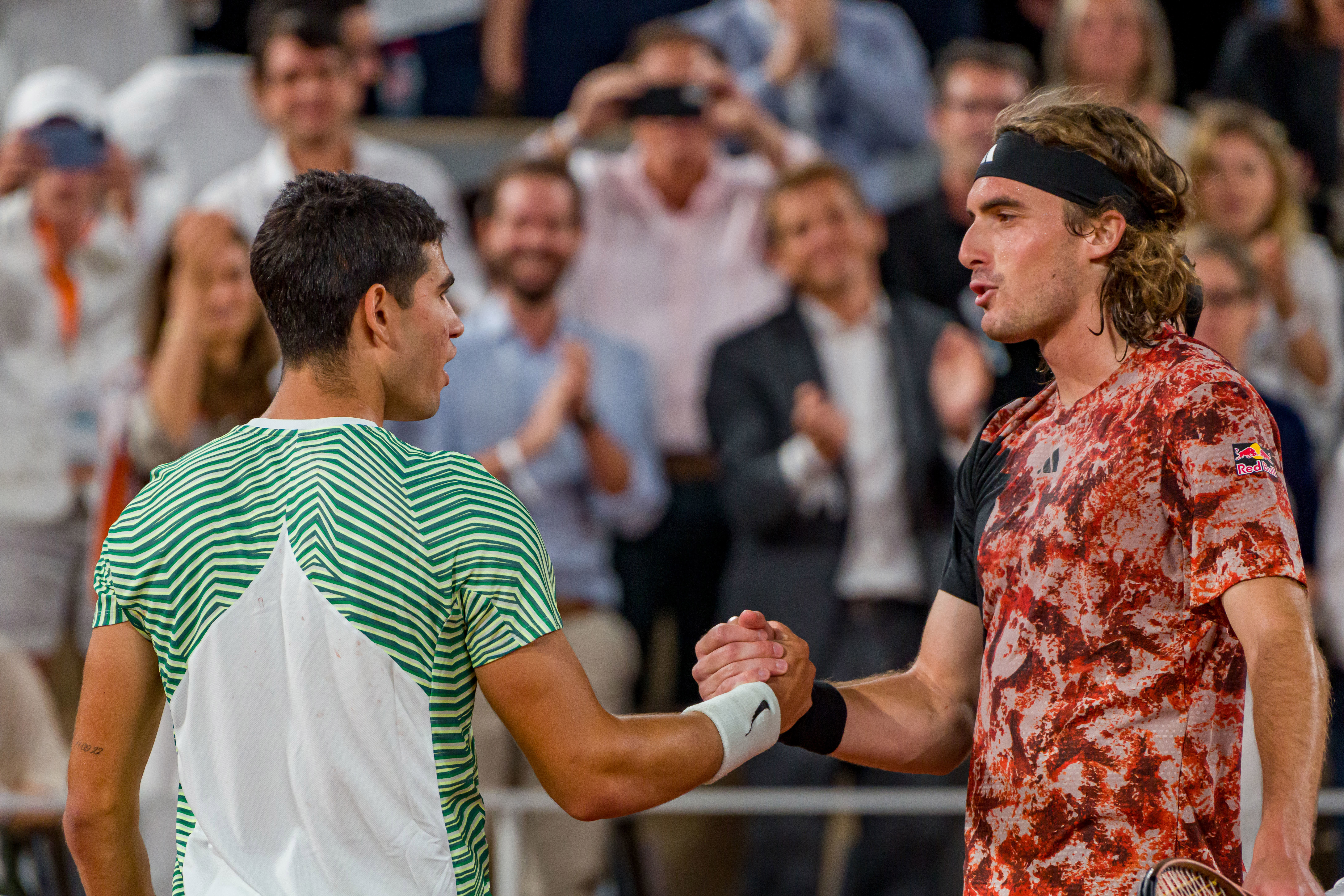 Professional tennis players: They're just like you and me. Sometimes they take melatonin to try to get some Z's.
In the case of Stefanos Tsitsipas, he thought the sleep aid might have left him too drowsy on the court at Roland-Garros.
Tsitsipas, a 24-year-old from Greece, offered up an unusual explanation for his performance during a 6-2, 6-1, 7-6 (5) loss to Carlos Alcaraz in the quarter-finals of the Grand Slam tournament.
READ MORE: Golf world in shock as PGA Tour announces LIV merger
READ MORE: Ange officially unveiled as EPL giants' manager
READ MORE: 'Shattered' De Goey's text to Eagle after brutal hit
The contest began at about 8.30pm local time and lasted a little more than two hours. Tsitsipas apparently wanted to snooze a bit beforehand.
"One thing that I'm going to try to avoid in the future is (having) melatonin pills and naps before matches," Tsitsipas said, "because it clearly doesn't seem to be working."
Melatonin is a hormone that helps control the body's sleep cycle.
Watch Roland-Garros 2023 live and free on 9now.
"Schedule has been a little bit difficult the last few days. I had some late-night sessions. Not super late, but late enough for me to kind of have my sleep schedule ruined, in a way," Tsitsipas said.
"You know, sleep is a very vital, important thing, and recovery is the most important thing when competing and playing big Slams like this."
He said he also tried to take melatonin before playing against Novak Djokovic in a 2019 match at an indoor tournament in Paris. The result of that one? A 6-1, 6-2 loss for Tsitsipas.
Alcaraz progressed to his second major semifinal — the other came when he won the 2022 US Open — by outclassing Tsitsipas in every possible manner until stumbling slightly near the finish line.
It was so lopsided for much of the evening that fans roared, and Tsitsipas raised his arms to acknowledge their reaction, when Alcaraz's third-set edge was trimmed from 3-0 to 3-1. Soon after, at 5-2, Alcaraz held two match points that he frittered away; he got broken for the first time to make it 5-3; and another match point came and went at 5-4.
Not until his sixth match point of the contest did Alcaraz finally convert, with a backhand volley winner.
Watch Roland-Garros 2023 from May 28. Every match ad free and on demand. Centre court coverage in 4K UHD on Stan Sport
"I think sometimes when you see these great players in the early rounds of Grand Slams, yes there can be a big gulf in the level, the quality, the ability of players," Tim Henman, a former Roland-Garros semi-finalist, told Eurosport.
"But Tsitsipas is five in the world, he's won Masters 1000s, we're talking about him [potentially] being a Grand Slam champion.
"And for those first two and a half sets it was borderline embarrassing how average Alcaraz was making Tsitsipas look."
For a daily dose of the best of the breaking news and exclusive content from Wide World of Sports, subscribe to our newsletter by clicking here!